Please note: For advertisers and sponsors looking to advertise on Teahow, please use this link to register your interest. For all other inquiries or if you would like to be a writer for Teahow, please email us (spam is filtered).
Hi, my name's Michael, tea blogger and tea course writer. Welcome to my site.
I've been a tea addict for many years, but many of my former years were spent wandering in the teabag wilderness.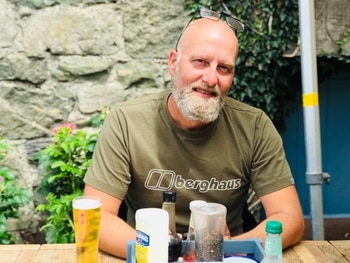 Even though I even worked in tea rooms part-time as a young man, I'm not sure that I ever fully appreciated tea until I got older.
And in any event, tea rooms back then were not as varied and expansive as they are today.
I re-discovered tea!
With a newfound love of tea in recent years, and an enthusiasm to share what I was learning, I set up Teahow.com. But for a while before that, I toyed with the idea of setting up my own tearoom instead – but I just couldn't commit fully to both.
I'm glad I chose the path I did because I'm still learning about tea too. and having teahow has actually been far more of a learning adventure than I'd imagined.
Since setting up the site in 2018, I've not only written consistently on a wide variety of tea-related subjects, but I've also written my own Tea Sommelier Course that has proven more popular than I'd hoped and is also available through the Apple Book Store and Barnes and Noble.
In my former career, I was an Apple Technology Consultant in Education, and before that, a College Business Studies Lecturer …among other things. But now I work on Teahow and other sites full time, it's great when you can finally follow a real passion you have.
It also enables me to spend more time with my partner, who, it must be said enjoys dabbling with her own blog too.
I also now spend more time with my three children, two of which have now left University, and one of those has already begun blogging about their passion too …and it's a pleasure to help them in their journey!
The aim of Teahow
When I created Teahow I had two main aims…
For me, Tea always had an air of 'elitism' about it, and unless you "know" about tea with decades of experience, then you're just not in the club! But it doesn't have to be that way, Tea can be simple, you don't have to be an expert. It can be accessible for everyone to enjoy tea and receive the health benefits along with it.
Tea has always been viewed as a complex, intricate, and even an expensive pastime, I'm seeking to simplify it. You don't have to know every aspect of every tea and you don't have to own lots of fancy tea gadgets. You simply need to explore teas you like the look of, use some simple tools to brew it, some basic knowledge, and mainly just enjoy it.
I'm still working towards these goals, which is why I continue to write, and why I created my simple Tea Sommelier Course.
Teahow continues to grow at a fantastic rate, and I'm so appreciative of all the comments and emails I receive.
What future plans do I have in store for Teahow?
Well, I plan on writing more guides in the future, and more courses, so that I can help people understand how easy tea can be to learn and enjoy, and how much more enjoyable and rewarding it can be than store-bought teabags.
As for me, I am in the planning stages of traveling, because it's time I saw a little more of the world …and who knows what tea I might find (and share) along the way!
Thank you all for visiting my site, and for your contributions. And as always, I'll continue working on teahow.com, for the love of tea!
That's me
Michael.