Kettles have been in use for years now and it has settled into our daily life in such a way that it has become an essential part of what we use.
A morning without tea or coffee isn't really a good morning for most, and hence you can't live without a kettle. But finding a kettle that suits your needs can be a tough job. Moreover, a kettle that is not the one you want will give you a pretty annoying time.
Everyone has a different preference when it comes to a kettle, some people want electric kettles while some like to have a stovetop.
On the other hand, many people like the younger me, who have never shopped for a kettle do not even know that there are types of kettles. Don't worry folks, I can relate to you all and by the end of this article, you will know all that one needs to know about kettles.
A fair few years ago, the kettle that my mother gave me was a blessing, especially for someone like me who is not really a morning person.
I obviously did not buy it, my mother did and so over the years I've improved my buying prowess when it comes to kettles.
Recently, I found myself wandering around the mall trying to decide which kettle I wanted. My old kettle was not available anymore (most annoying as that kettle and I had a special bond!), so I had to choose a new one. I thought it wouldn't be difficult and I have never been more wrong.
Until that day I did when I suddenly realized how many more varieties there were since me and my dear departed kettle had first met!
So, I randomly picked one that looked good and was economical. I came home thinking that the whole thing was sorted. Little did I know it certainly wasn't.
A few days passed, and the kettle started making a weird sound and took an eternity to boil water. So I bought another one, had a few good days with it, but it then burnt out. The kettle shopping continues!
With each new kettle, I faced new problems. If you don't want to be in a situation like me, don't just go and randomly pick a kettle that you think would work well. Here I've compiled for you a list of some of the best kettles that I've come across since. So that next time you go kettle shopping, you do not find yourself clueless.
1. SMEG KLF03 Retro Style Aesthetic Electric Kettle
Smeg is pretty high up there for me. They're one of those companies that can be classified as a top class manufacturer. All their kettles are of good quality and they just never disappoint.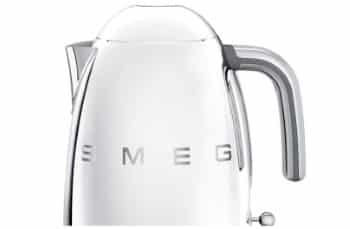 However, if we pick one from their line up of kettles, then for me, Smeg KLF03 would be on the top of the list. It's a little on the higher price end but it's still one of the most popular kettles among tea users.
This model is available at most SMEG outlets, and even available here on Amazon.
For me, Smeg KLF03 is very good in almost every regard. From the quality, to how it looks, this kettle checks all the boxes.
The design of the kettle is very classical and decent. It comes in different pastel shades as well as bright red and black. So, it gives a cool appeal to the eye and would easily sync with all kinds of kitchen themes.
Another good thing about having such neutral shades is that it's easy to clean, and the color won't fade away.
Those who have kept black or other dark shaded kettles would agree with me that the kettle will look dusty even right after cleaning, so you occasionally need to dust it.
You'll need to keep this in mind if you go for a Smeg KLF03 color that might show the dust more.
All shades of this kettle make a good contrast against its silver handle and base. Plus there's a really stylish full polished stainless steel model available too on Amazon.
Also, with this kettle, you don't have to worry about peeling letters or logos. It has a raised logo and the letters are made of metal which makes them durable. It's SMEG, so it will stay stylish, and you can just continue to show it off!
Similar to the high quality of rest of the kettle, the handle is pretty solid and gives a good grip. The cable is neither too thin nor too short. It's almost 74 cm which is pretty adequate to easily wrap around the base. Like many other kettles, it comes with a removable limescale filter which is really helpful! It is a little heavy but that is basically due to the metallic and sold body of the kettle.
Smeg KLF03 has a capacity of 1.7 liters and 2400W power. If we talk about how it works, it is one of the fastest kettles I've known of. It can boil a liter of water in less than about two minutes.
When you turn on the kettle, it gives an indication that the water is boiling via a blue light which is pretty cool too.
The thermostat is adjustable, so you can change depending on how warm you want the water to be. Neither does it leak, nor gets hot from the outside.
Above all, the kettle is very quiet so if you're tired of the kettle ruining your mornings by making loud boiling noises then the Smeg KLF03 is the one you want. There's also a matching toaster for some of the colors.
2. Delonghi Avvolta Jug Kettle
We can't talk about tea kettles and not mention DeLonghi, that's almost impossible. DeLonghi offers a variety of tea kettles but the DeLonghi Avvolta jug kettle has made it to my list mainly because of its striking finish and a number of features. If you can't get it locally then it's available on Amazon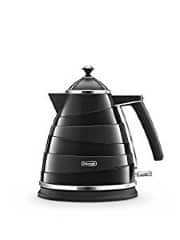 If you want your kettles to be a statement piece of your kitchen counter, then this kettle is for you. The two-toned bright appearance of the kettle is pretty unique and makes it stand out. It's available in white, black, and bright red color. It's such a unique style that you can't help find yourself just staring at it! If you can't get it locally then it's available on Amazon
The chrome details on it. makes the kettle look more aesthetic too. The good thing about this kettle as well is that there's also a matching toaster available in most stores, or you can get it on Amazon if you can't find it locally. And I guarantee you that you will just stare at that too!
So, if you want your kettle and toaster to make a breakfast set, you have the option to do that as well. Avvolta by DeLonghi will add a modern touch to your kitchen top. For added style and match, add in these three canisters from Amazon too and it'll complete your counter setup!
It's an almost 3kW rated kettle and provides a generous capacity of 1.71 liters. It warms up water pretty quickly. Takes a little longer than the Smeg KLF03, yet one of the quickest to boil water. Because of its jug-shaped structure, it is easy to pour – no spilling out onto the counter!
The body of the kettle is made up of plastic so it's not quite as safe or as good to feel and classy as it looks – but the positives outweigh it already!. Like all modern kettles should be It has a wireless swivel base which means you don't have to deal with annoying cords anymore rather you can detach the jug from its base for convenience.
The lid can also be detached fully, the downside to which is that you need to put it somewhere while filling the kettle. The water level gauge is at the back of the kettle. The kettle comes with a built-in limescale filter and it can be detached to wash which is always a plus.
The quality of this kettle is good for the price. I mean you get what you pay for, but it's one of the best kettles with such a decent price available on the market that will work well, and look more expensive than it was.
3. Morphy Richards Accents Traditional Kettle
Morphy Richards accents traditional kettle is one of the very few kettles that are electrical but still gives the old school kettle vibe.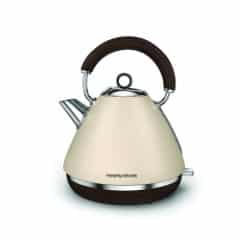 If you love to have small appliances on your kitchen worktop, or have little surface area to have a number of things on top, then this little traditional kettle is a good choice for you. Plus it matches that country kitchen style – if that's your thing.
The pyramid shape of the Accents Traditional Kettle gives a classical touch to your kitchen and as it is available in white, black, cream, red and blue color, it's not difficult to match it with your kitchen theme. You can also buy a matching toaster from the Accents collection of Morphy Richards to complete the look – did I mention I like matching toasters too?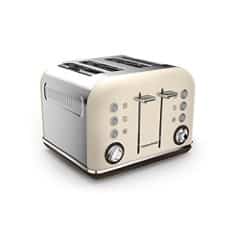 The pyramid shape of the Accents Traditional Kettle gives a classical touch to your kitchen and as it is available in white, black, cream, red and blue color, it's not difficult to match it with your kitchen theme. You can also buy a matching toaster from the Accents collection of Morphy Richards to complete the look – did I mention I like matching toasters too?
Accents traditional kettle is a 3000 watts kettle and holds up to 1.5 liters. It has a water gauge that gives the measurement in cups. Due to condensation in the kettle, the water level is sometimes a little unclear.
But then this problem exists in almost all kettles. The handle is well positioned and makes it easy to pour and it doesn't even heat up which is a plus point.
Morphy Richards accents traditional kettle might not be the fastest when it comes to heating water as compared to other electric kettles mentioned above. However, it still automatically turns off when water is boiled.
On the noise level side, it's fairly average, but possibly a little loud when reaches boiling point. There are few other downsides such as the cleaning of the inside of this kettle is a bit difficult due to its small opening
Its strong body can last a long time though, with little maintenance over the years. Hence, if you want a stylish kettle in a good price range, then this would be a good addition to your kitchen.
Available in most retail outlets, but again if you can't find it then you can get it here on Amazon.
In terms of matching Morphy Richards accessories, there are some ideally placed matching canisters that work well with this kettle.
You can also check them out as well on Amazon. Stylish and also a great simple chrome finish. Or, for that farmhouse look, you can get the whole natural look canister range including a bread bin too.
4. Alessi 9093 – Stainless Steel Mirror Polished Kettle
Alessi specializes in producing very unique and stylish kettles. Alessi 9093 is a stovetop kettle that is made of stainless steel and gives a reflecting finish. The retro style of the kettle gives a traditional yet state of art effect to the kettle. Like many other Alessi's models, Alessi 9093 has a little iconic bird at the spout of the kettle that makes it look like the Rolls Royce of the kettle world!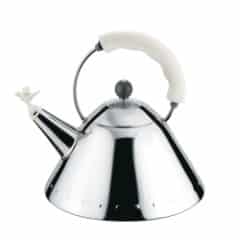 The handle is positioned on the top of the kettle which is good for a stovetop kettle especially if you're using a gas stove. It's available in three colors, blue, black and white.
The body is basically steel silver in all cases, only the color of the handle and the bird differ.
This kettle was designed back in 1985 by Michael Graves and is known to be one of the bestselling. The design is influenced somewhat by American pop and European art. It has a hint of pre-Columbian culture as well. Therefore, it appeals to people of all tastes and suits in all kitchens. Alessi's range of kettles is on the higher price end, but their quality is impressive, and it is always better to invest in a reliable kitchen appliance.
Alessi 9093 is very durable and would definitely last a really long time. Moreover, it's friendly to all types of stoves, whether it's electric, induction, or gas.
The capacity of the kettle is two liters which is pretty generous. The kettle, however, takes a lot more to heat water as compare to electric ones.
At 8+ minutes to boil a FULL kettle of water on medium heat and it may be that will put some people off. But it's good for those who enjoy and like to devote time to brewing tea. But if you're always on the move fast, then maybe go for the SMEG or Morphy Richards above.
Have to say the whistling bird makes the tea-making ritual even more pleasurable though. The singing bird as the water boils brings something of a soothing effect.
You should be able to get this fairly easily, but if not then here's the amazon link for the Alessi 9093. The Accessories that I've found for this are more whistles!
That's right, you can change the color and style of whistles – that's pretty unique. They're here if you want to take a look. A dragon and a swallow. They would certainly be the talking point of the gift!
5. OXO Good Grips Tea Kettles Class and Uplift
OXO good grips is basically a range of utensils and homeware that provide exceptionally good grip. There is no doubt that the good grip range of tea kettles provide some innovative features and would be a great addition to your kitchen.
The kettle has a stainless-steel fine finish that would suit all types of kitchen décor.
There are two varieties of OXO good grips tea kettle, one is classic and the other is uplift. Both of them are equally good with few differences in their features. Price-wise, both the classic and uplift kettles are under $50 which is pretty reasonable for a kettle of such good quality.
The OXO good grips classic tea kettle is of traditional built – yet elegant. It has a rotating handle that makes it very easy to fill the kettle. If you like to fill your kettle by putting it under a tap and letting the water run, then this model is for you.
The rotating handle makes it convenient to pour as well. The only flaw in the design is that the spout does not open automatically. The kettle holds almost 1.7 quarts. The Classic Tea Kettle is available from Amazon if you can't get it locally.
The OXO good grips Uplift Tea Kettle gives a new definition of what a modern and sleek kettle looks like. Unlike the other model, it has an easy to use spout that opens automatically when you lift the kettle and tilt it.
The handle is, however, stagnant but non-slip. It has a capacity of 2 quarts which is slightly more when compared to the classic one.
OXO good grip tea kettles are known to be very durable and heat resistant. Unlike many stovetop kettles, they can be used for years without any rust. They are leak proof as well.
Also, they're non-slip – or in other words, good grip adds to the safety aspect of the kettle. Another common feature of these classy kettles is their loud, clear, and classic whistle.
There is no chance of you forgetting about your tea if you're using any of these kettles as their loud whistle will alert you when the water is ready.
They're easy to clean due to their large opening. A flat and wide base is actually a smart design as it warms water quickly and evenly.
Note, however, if you have an induction hob, then OXO good grip tea kettle isn't for you as it is not compatible with an induction stove.
There's a great little accessory available too, the OXO infuser is a perfect fit for this to turn it straight into a stove top tea pot. You can get that from amazon too.
TYPES Of KETTLES
Kettles can be broadly classified into two type, an electric and a stovetop kettle.
Electric Kettles
Electric tea kettles are the most suitable type of kettle for tea lovers who prepare tea more than once a day but don't want to spend a lot of time on boiling water.
Electric kettles are the most efficient way of boiling water for tea. They take less than half of the time a traditional kettle takes to boil water. The kettle works by using electric power and thus requires a supply of electricity which makes it unsuitable for camping.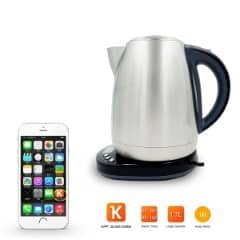 Different electric kettles have different features. Some turn off automatically when water reaches a certain temperature, some have an adjustable thermostat.
Not just that, some smart kettles offer a feature that allows you to control your kettle through your phone as well, like the Aimox Smart Wifi Stainless Steel Electric Kettle on Amazon.
Electric kettles are comparatively expensive and less durable than other types of kettles. Though they are considered to be safer as the body of the kettle doesn't usually get hot.
Nevertheless, some cheap models are sometimes made of cheaper grade plastic and they start giving a plastic-like funny taste to your drink after extensive use.
In my tea course, I discuss the ultimate kettle for perfect tea making. Check out my Tea Sommelier Course for more information
Stove Top Kettles
Stovetop kettles are relatively traditional and slower but gives you a chance to enjoy the whole tea brewing process.
The stovetop kettle would add a classic effect to your kitchen however, you obviously need a stove for a stovetop kettle. So, if you're living in a dorm or similar place where you don't have access to a stove then these kettles are obviously not for you. Stovetop kettles come in many varieties, depending on the material they're made of.
Cast Iron Kettle
This is one type and they are considered very durable. They take a little longer to heat but heat it very evenly.
However, they require a lot of maintenance. You cannot leave water in the kettle for very long and need to wipe it dry after every use or else it might get rusted.
Many believe that these types of kettles retain heat for a longer time. So if you're the type that likes to refill your cup again and again but doesn't enjoy re-boiling then a stovetop kettle is your type of kettle.
Copper Kettle
As the name suggests, these are made of copper and as copper is a good conductor of heat, it boils water rapidly.
Also, it can boil water even at medium or low heat, so you can save on power bills as well if you keep this kettle.
One downside is that due to copper being a soft material, the kettle would be prone to dents and scratches if not handled well. But I actually think if that happens, then it would only add to the style factor of the kettle anyway.
Stainless Steel Kettle
These are one of the most commonly seen stovetop kettles and the best thing about it is that it will look new even after years with just a little bit of maintenance.
They heat slowly but evenly. They are very durable as well as economical. The handle can get a little hot so you do need to be careful with handling it.
Some stainless-steel kettles have an enamel finish that makes it even more durable and caters for all the negatives of an ordinary stainless-steel kettle.
They have a very consistent finish and can be found in a number of colors to match your kitchen's theme.
Whistling Tea Kettles
There is another type of kettle called the whistling tea kettle. It's basically any kettle with an added feature of a whistle. But since not all kettles come with a whistling head, many people classify it as a separate type.
Whistling tea kettles have been in households for probably the longest time. If you picture a busy household where everyone is doing their chores while the water boils, you'll probably imagine a whistling kettle that lets everyone know when the water is boiling.
We all must have at least left the water to boil in a kettle once before, then completely forgot about it within minutes. So, this is a good feature as it won't let you ignore it.
As well, it also works as a safety feature as you won't boil your kettle dry ever if whistles as soon as the water is boiled. Boiling a kettle dry is not only dangerous but also affects the metallic finish of the kettle and makes water taste funny in the long run.
How To Buy a Kettle?
When buying a kettle, it's better to first have a clear idea of what you want and what you need.  The type of kettle you want is more about personal preference.
Like many other home appliances, different people have different preferences for a kettle. Some just want a pot to get the job done while others want one that goes well with their kitchen theme.
So, first, you need to set your preferences as well. To find the type of kettle you want, you need to ask yourself a few things.
Electric vs Stovetop Kettles
First of all, decide the type of kettle you want. For this, you need to figure out how much time do you devote to all the tea making process. Is this a ritual for you or you just want coffee or tea instantly while you rush to work?
If you are a person who is always in a hurry and wants your tea to be ready in the minimum possible time, then it is better for you to choose an electric kettle as it takes less time to boil water as compared to a stovetop kettle.
On the other hand, if you like preparing tea steadily, enjoying the process of the kettle boiling water, perhaps while you read your book on a Sunday morning, then a stovetop kettle or maybe a whistling kettle would be a better option for you.
Traditional vs Modern Kettles
Your style is greatly reflected in your choice of the kettle. as well and you'll be comfortable with only the one that suits you. So, ask yourself whether you want a classic traditional kettle or a modern kettle?
Kettles usually come in two styles, a jug-shaped kettle, and a traditional kettle. There are more varieties as well available in the market, like a dispenser looking kettle, and many more.
However, it's always advised to choose the one with which you are comfortable and the one you think would look good sitting on your kitchen bench. This will help you narrow down your options to a great extent.
Tea Preference
The kind of tea you drink should also be considered while choosing a kettle. If you only want boiling water, you might be good to go with a kettle that does not offer an adjustable thermostat.
However, if you drink different types of herbal teas and someone else in your family or even you at times like to have cold brew coffee, then it is better to invest in a kettle with an adjustable thermostat.
Once you have a general idea in your mind about the kind of kettle you want, go for the one that is economical and offers the best quality. Keep one thing in mind though, there isn't a right or wrong choice when it comes to choosing a kettle. It is all about personal preference.
The take away from this is that a cup of tea or coffee is only to relax yourself and a kettle can help you do it easily. So, it's wise to invest in a good quality kettle, especially if tea is that wonderful daily habit for you.
Final Thought
If you like kettles, then there's a good chance you like tea! Be sure to check out my tea course to easily become the go to Tea expert among your family and friends…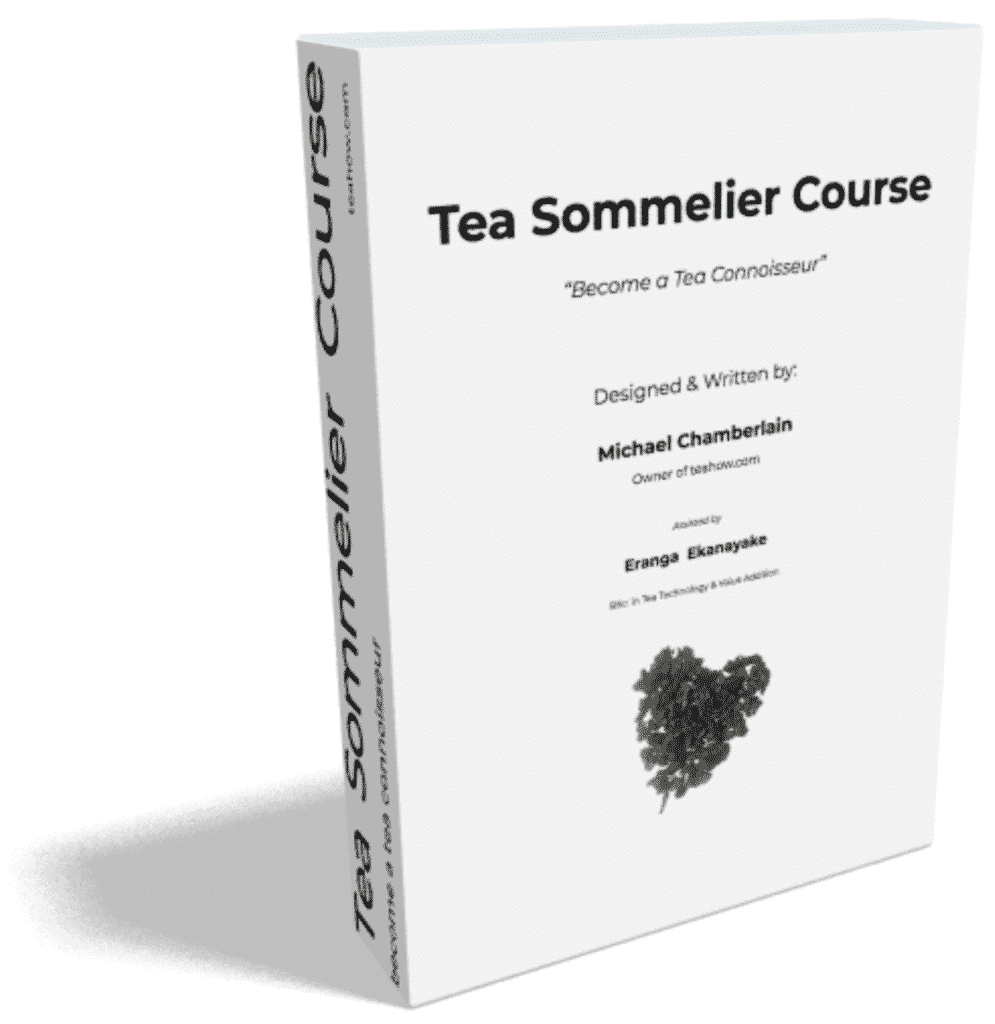 Improve your tea skills with the teahow Tea Sommelier Course
Whether for enjoyment or because you're considering a career as a tea sommelier. This course has everything you need to enhance your tea knowledge and tea tasting skills.
This course keeps it simple with step by step tea tasting, and easy reference guides
A course for your leisure, or as a precursor to a career in the tea industry. Find out what a tea sommelier actually does, career paths, and what they earn.

I hope that was useful for you. Buying a kettle is something you only want to do once, so I hate when you buy a kettle and find it's just not the right one. I've done that too many time. I hope this buying guide helps you avoid that!