It's one of those dull winter mornings when we're all at risk of feeling slightly depressed during this season. What better time then, as a tea connoisseur who has written courses about tea, to test out CBD – and provide an unbiased CBD tea review for those thinking of drinking it.
Here's my quick roundup of the experience before I barrel into my CBD tea-fueled rambling details…
CBD tea review: You're not going to taste instant marijuana, in fact, that part has been managed out of the product in an effort to only bring the health benefits. But during this tasting, I did get a strange sense of inner calm, but also felt empowered with a rush of enthused energy!
Here's the full story…
Why I decided to try CBD tea
I'm not generally prone to ailments, and I'm not old by any means, but as I do get older those aches and pains tend to take a little longer to shake off.
So who wouldn't want to try something that might make life that little bit more pleasant!
And as a tea connoisseur, tea is something I've tasted a lot of over the years. But as the market rushes towards CBD as being a magic potion, and seeing now that CBD tea options were available, I felt I should try it and offer up my thoughts.
I'd also heard positive stories about people in my almost-immediate circle who had tried it with positive results, and one or two even swore by it as a cure-all remedy – which seemed a bit strong to me – I almost sneered skeptically at these …as one might with the claims of wild west Snake oil seller!
So let's go on the what CBD I decided to test…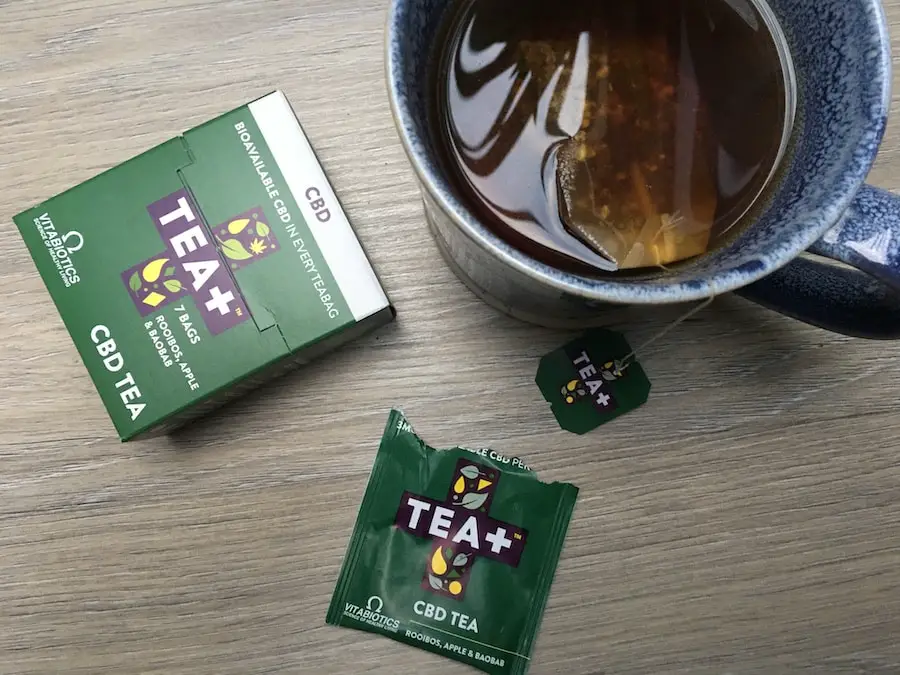 What CBD did I test
There was only one option I saw that I felt like trying for this exercise. CBD tea by Holland and Barratt.
I bought a pack of 7 teabags for around $10 (£7) – give or take – and at that point quickly realized that a cup a day might amount to a fair dent in the wallet, but as a tea lover, I'm used to paying a slightly higher price for quality, so I quickly shrugged the price off!
If you were to move on to the overwhelming variety of tinctures, oils, creams, and other CBD-based products now adorning the market, then the costs could mount up.
But for some, particularly those with long term or chronic ailments, the trade-off may well be worth it.
I know from the results of my ongoing Global Tea Survey, that a lot of people buy their tea based on branding, so I did wonder how much I'd been sold to with this brand! Green seemed to be the right color packaging anyway …as I had bought it!
CBD tea specifications
I don't want to get too into-the-weeds with the minutia of CBD tea labeling, but the CBD content in CBD tea falls under three main categories – which are kind of important to understand when purchasing CBD tea.
According to Healthline these are…
Full-spectrum CBD:
Full-spectrum CBD contains small amounts of all components of the cannabis plant. That means it can have trace amounts of tetrahydrocannabinol (THC). Federally legal full-spectrum products will always have less than 0.3 percent THC. In states where cannabis is fully legal, you may also be able to find full-spectrum products with higher levels of THC.
Broad-spectrum CBD:
This type of CBD does not contain THC. It does contain other components of the cannabis plant, though, so it won't be 100-percent CBD alone. Consider it the middle child of the three CBD choices.
CBD isolate:
Your pure CBD product, isolate contains no other compounds found in cannabis, except for the CBD itself.
Mine was a full spectrum CBD tea, so I'd hit the CBD jackpot – which means that unlike a broad-spectrum version, it may contain trace elements of tetrahydrocannabinol (THC) of < 0.03%, which I also read was not enough to have any "high" effect anyway!
But apparently, if I took enough of it then maybe I'll experience the entourage effect where various CBD plant components mount up to create greater benefits.
If I took a whole load of Full spectrum CBD then I'm likely to get some high! So maybe overdosing on CBD is an article I can work on for another time!
Back to the specifications of the tea I had.
The usual nutritional value didn't yield any kind of surprise. In fact, there were hardly any nutritional aspects at all. It was unlikely to register on the beverage Richter scale for shock value…
| | |
| --- | --- |
| | Per 200ml Serving of CBD Tea |
| Energy | 7kJ (2kcal) |
| Fat | 0g |
| (of which saturates) | 0g |
| Carbohydrates | 0.5g |
| (of which sugars) | 0.5g |
| Protein | 0g |
| Salt | 0g |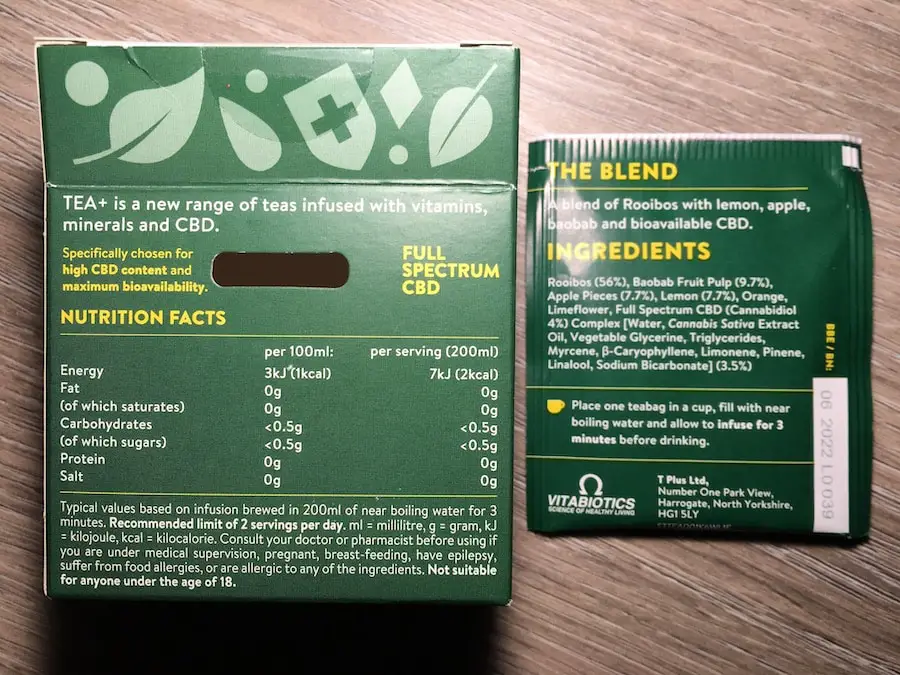 Flavors of CBD tea
You can buy CBD tea in just about any flavor that you can buy tea in. But why does that matter you may think? Well, there are good reasons to combine CBD with a variety of tea.
Tea just on its own can provide numerous health benefits. I talk more about these in my Tea Sommelier course, but the benefits can – and do – vary depending on the type of tea.
So if you're looking for something to help with digestion, then perhaps a CBD Sage tea might be a good option. If you're looking to detox, then I'm pretty sure you can get a lemon CBD tea.
There also seem to be options that go beyond tea, such as mushroom defense. I'll make a note of that one for the future I think!
The flavor I had was a blend of Rooibos, with Lemon, Apple, Lemon, Orange, Limeflower, Baobab, and of course CBD.
I'm very familiar with Rooibos tea, so this seemed to make sense and wouldn't muddy the water with a more unusual flavor – like mushroom defense!
You can read more about Rooibos tea in my guide to Rooibos tea, or you can just compare the pros and cons of Rooibos tea in another article I wrote.
CBD tea preparation
Add the CBD tea bag into a cup
Pour 200ml of near-boiling water into the cup
Infuse for 3 minutes
Remove CBD tea bag
Drink
I'm an old hand at this kind of thing, so, as per the instructions, I poured just off-boiling water into a 200ml cup where the teabag sat waiting in what I can only imagine was a sense of nervous stage fright.
The CBD Tea Taste test
I drank the Full Spectrum CBD tea.
Part of me wanted to suddenly feel like superman, but the sensible part of me knew I'd just stare blankly at a blank wall feeling like I'd just taken a drink of Rooibos tea.
And that's what it was like. No real strange test, just the normal taste of Rooibos tea – which was nice.
Rooibos has a real earthy flavor to it, so I can see why it would match up well with CBD tea. And while Rooibos tea has a number of pros and cons, it also has great health benefits in its own right.
A while after CBD tea tasting
A while later, and either due to the Rooibos tea …or perhaps due to a psychosomatic response, I began to feel slightly good.
What was strange was that I felt a sense of energetic enthusiasm, only slightly, and I'd have to drink more …and for a longer period of time to be sure.
But at the same time, I felt strangely and ever so slightly calm. There are always pressures in life and we usually feel them underlying much of our day. But at this point, I didn't seem overly concerned and felt a sense of inner calm about that moment.
Would I recommend CBD Tea
It's been four days now, and even with the sample that I've had, I can say that I've felt marginally better with the results. So yes, I would recommend it.
And by the way, I'm not being sponsored to say this – more's the pity!
Is CBD Tea worth it?
Look at it this way, there's a good chance that if you're a seasoned tea drinker than you're going to be spending money on loose leaf tea, and/or a variety of other tea varieties.
It's not an expensive hobby, and the benefits far outweigh the costs, both in pleasure and health benefits.
So, if within that whole package you're able to add the benefits of feeling more relaxed, assisting with ailments, or indeed gaining a superman power pack of energy …then why not?
The cost overall isn't that much more than buying quality tea anyway. So go ahead and feel some benefits from it.
The finish…
This was my review of CBD tea, was it worth it? Yes. And will I continue with it? Yes, I will. It will just form part of the natural process of drinking tea for me, and hopefully, I can reap additional rewards as I build up my inner stock of CBD. I'd recommend you do the same.
Don't forget to check out my increasingly popular Tea Sommelier Course, here's some information.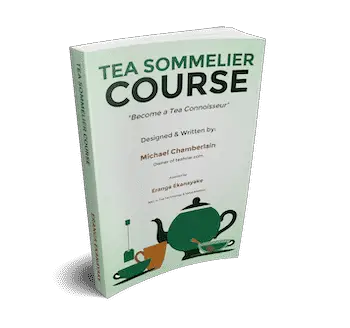 Take the fast track and become a tea connoisseur
Whether for enjoyment or considering a career as a tea sommelier. This course has everything you need to enhance your tea knowledge and tea-tasting skills.
This course keeps it simple with step-by-step tea tasting and easy reference guides
For pleasure, or as a precursor to a career in the tea industry. Find out what tea sommelier actually does, their career paths, and what they earn.

Find out more about the Teahow Tea Sommelier Course!
Find out more about the Teahow Tea Sommelier Course!