Tea bars are becoming popular, but what makes a tea bar special? In fact, you might be wondering – what is a tea bar anyway?
Here's where I go into detail on what a tea bar is. Who runs them, who goes to them, where to find them … and generally what's so different about them…
A tea bar is an outlet dedicated to tea with a tea-centered menu. Most offer tea menus paired with breakfast lunch and afternoon tea menus. Mainly set in urban areas, tea bars are ideal for avid tea drinkers and are staffed by tea sommeliers and tea experts to advise on the best menu choices.
That's the short answer, but I should expand on that to offer more insight into what exactly a tea bar is…
What is a tea bar? 
A tea bar in simple terms is a place dedicated to tea services.
This doesn't mean there won't be any other drinks or food on the menu at a tea bar, even coffee shops sell tea. But the purpose of a tea bar is to make tea the center of attention within the menu offered.
Tea bars are closer to the concept of a coffee shop than you might think.
Coffee shops prioritize coffee as the driving purpose of the place. But still offer accompanying goods like cakes and pastries to compliment the coffee served.
Tea bars adjust their menus throughout the day
So a tea bar is a similar establishment with similar concepts to a coffee shop. 
However, whereas a coffee shop sets and maintains its menu and offerings. What makes a tea bar special is the unique alteration it makes in its menu throughout the day.
Most tea bars go through a transition of tea-centric cocktails throughout the day. 
They generally offer a specific combination based on breakfast, lunch, and afternoon tea preferences.
So for breakfast, you may get a separate food menu, paired with teas suitable to kick start your day and so on.
The afternoon menu will likely be filled with flavorsome teas, or teas to boost your energy levels on a waning afternoon.
Sometimes even the decor of tea bars goes through a furniture and mood change – depending on the time of the day. 
While the basic idea of a tea bar is to offer teas specific to the dining in or takeaway experience, this is often also altered to suit different nationalities. Go into any Turkish tea bar (the Turkish drink the most tea), and it will differ greatly from a New York tea bar.
Tea Bar vs Tea House
The difference between tea bars and tea houses can be summed up easily as Modern vs traditional.
Visiting traditional and quaint tea houses… while they have their place and have stood the test of time, is not necessarily where people want to hang out in a modern world. 
Coffee shops have shown us that they can move with the times …and tea no doubt had to follow suit at some point.
The new modern ambiance and feel offered by tea bars can be very attractive, particularly to the younger generation.
That's not to say tea rooms … or tea houses are not required. There will always be a need to cater to those looking for a more traditional tea serving establishment. They are – generally – more formal and up-market.
And also note, that sometimes tea outlets selling boba tea are also called tea bars, but you will mostly be offered a bubble tea slection at these type of establishments. You can learn more about bubble tea here.
What tea bars offer though, is an "on-par" experience to that provided by the modern coffee house.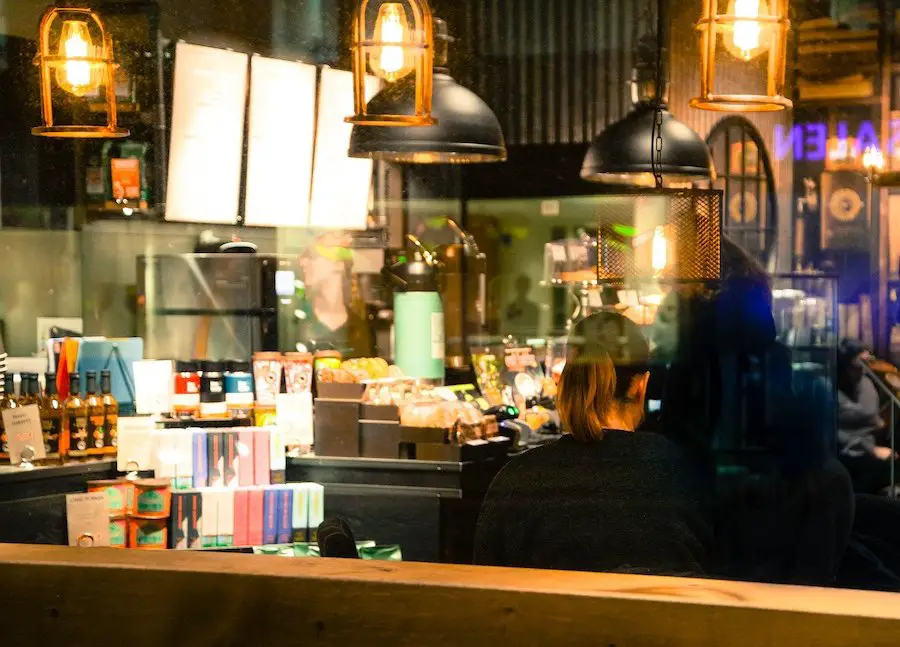 Why visit a tea bar?
Here are a few reasons why you should visit a tea bar. I may have touched on these in other parts of the article as well, but it does well to round them up…
Health benefits of tea
In recent years, tea has seen a surge in popularity, mostly attributed to its well-documented wealth of health benefits.
Benefits include boosting your immune system, combat inflammation, warding off cancer, avoiding heart disease, and other numerous health advantages. The evidence keeps on growing on why tea is an all-around healthy beverage.
Attractive environment
Tea bars have shown that it's not just coffee houses that can provide a relaxing and friendly environment.
Whether for meetings or to sample new teas, with the help of knowledgeable staff, and a variety of teas on offer, with family, friends, or colleagues, it's just an inviting place to spend your time.
Offers variety
Tea bars offer a new twist to the traditional coffee houses, except more than that, they offer a more varied menu, that can change along with times of the day and even the seasons.
It also offers a variety in the types of places you can now meet up and spend time in. 
Where to visit a tea bar
It's a fairly recent concept that has broken away from the aforementioned English village tea shop. Tea bars are mostly serving a customer base in more urban areas, or other busy areas where there is a high population.
They're often located in places that are easy to access, for people to hang out or even to take away while in a rush.
Tea bars are most certainly growing in popularity, so as our cities become saturated with tea bars (the same as coffee houses) so it goes that in the near future tea bars could expand their establishments to suburban areas as well.
A quick Google search brings up a host of tea bars in New York, they are becoming popular everywhere.
Who goes to a tea bar?
While this is a place ideal for tea drinkers … some of whom do take their tea quite seriously. This is also a good place if you want to become a tea drinker. Those wondering "what makes tea so special" may visit this place simply to give it a try.
But even if the tea doesn't grab you, the environment might. Tea bars in general have stylish décor, with a lovely ambiance that is all picture-worthy.
So if you want to relax, de-stress from the day, hang out with friends, create a tea tasting session, socialize or even work within a "good vibe" you can find it at most tea bars.
Similar to coffee shops, a tea bar is also a good place to accommodate remote workers. Or to even hold a relaxed work meeting.
Tea bars have takeaways too, so this doesn't necessarily mean only tea-diners can visit a tea bar. Even those in a rush or hurry can visit a tea bar for a quick takeaway tea.
Who works in a tea bar?
In terms of owning a tea bar. A tea bar is generally a legally separate establishment. They are neither part of – nor an adjoining space in a hotel, restaurant, or even a bar.
They are generally also run independently and often the owners are lifelong tea lovers and experts.
Usually, in a tea bar, aside from the owners who are avid tea drinkers, they often also employ tea experts and even tea sommeliers in larger or more popular establishments. These experts will provide recommendations to customers on what to choose from the menu. Often, they've had a hand in creating the menus too. 
This includes offering a guiding hand on how to enjoy a chosen tea in the best way or how to pair the chosen tea with the right food from the menu.
To work in tea bars doesn't mean you need to be a "tea master". If the idea of working in this environment might appeal to you. But you don't necessarily want to spend lots of time and money getting qualifications. In which case, I'd recommend my Tea Sommelier course as a great place to start…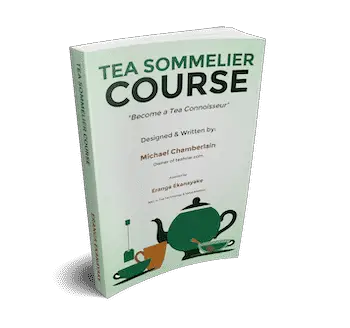 Take the fast track and become a tea connoisseur
Whether for enjoyment or considering a career as a tea sommelier. This course has everything you need to enhance your tea knowledge and tea-tasting skills.
This course keeps it simple with step-by-step tea tasting and easy reference guides
For pleasure, or as a precursor to a career in the tea industry. Find out what tea sommelier actually does, their career paths, and what they earn.

Find out more about the Teahow Tea Sommelier Course!
My take on tea bars
I love the concept of tea bars. Bringing tea into a modern setting is probably long overdue. And I can see tea bars becoming as normal and abundant as coffee shops. As the health aspects spread, so will the yearning for good tea – or to at least try it.
My Tea Sommelier course is all about simplifying tea. Bringing it into a world where the mysterious and high faluting elements are taken out. It doesn't have to be complicated.
Coffee houses are not that complicated. Tea can, to some extent, follow this trend. And actually, they can offer customers a much more varied and interesting experience.