We could all do with an energy boost sometimes, and some teas do have the ability to boost your energy. So if you're looking for the best teas for energy, then I've compiled a list of them here.
The most traditional option has to be black tea, but there are other good options such as Yerba mate, and Masala Chai. Caffeine-free options include Peppermint, Ginger, and Ashwagandha Powder Tea. Experiment with energy-based teas for a week or more to understand the effects for you personally.
Best teas for energy
Here's the list again as a quick reference guide…
Caffeinated teas for energy
Black Tea
Green Tea
White Tea
Masala chai 
Yerba Mate Tea
Caffeine-free teas for energy boosting
(also called herbal teas or infusions)
Peppermint Tea
Ashwagandha Powder Tea
Ginger Tea
Ginseng Tea
Rooibos tea
Nettle Tea
Chamomile Tea
Tea in general is a good energy-boosting beverage for different reasons. But one great thing about tea as an "energy drink" is that it doesn't always have to be caffeinated …not everyone wants caffeinated tea…
Meaning with tea, you have the option to boost your energy with or without caffeine. If you're caffeine intolerant looking for energy-boosting alternatives, or just trying to cut down on your caffeine then even black tea can be a great choice compared to coffee from the outset.
How to select your best teas for energy
Different people respond differently to the different consumption of ingredients. So I'd recommend selecting and testing these teas in order to find the right one for you.
But trying one for just one day may not have the desired effect. For effective use, you ideally need to build up the intake and wait for your body to respond to it over a slightly longer term.
So, when choosing one of the teas below, look to build it into a regimen that means you are enabling a compounding effect. Look to take one energy tea for at least a week to start to feel and understand if it's having positive effects on your personal energy levels. 
When to take your tea for optimum energy
Because everyone is different, we often need an energy boost at different times. For many of us, this is the morning. For others, the afternoon boost has a greater effect.
There are also times when each of us needs energy more than others. For example, you can also consult my list of 20 best teas to take in the morning.
So experiment with your chosen tea from the list below. Try taking it at different times of the day (but I'd recommend you steer clear of them later in the day). And make your own assessment after a week or more.
I should state that drinking a tea constantly is not going to compound the effect. There is an optimum level it will take you to and drinking too much might just make you ill. So in terms of how many teas you should consume, consult my article with a breakdown on how many cups of tea to drink per day.
With that background in place, below are the 12 best teas for energy, with a breakdown of caffeine and caffeine-free types of tea.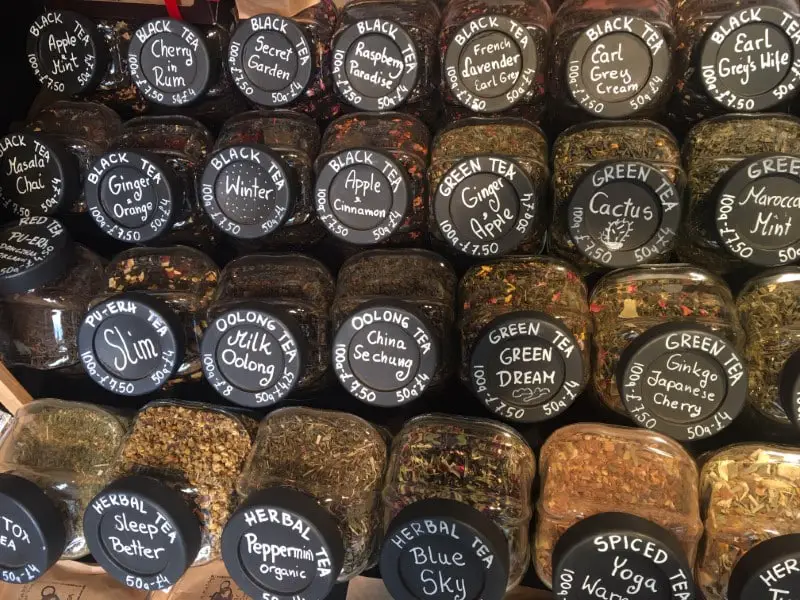 Caffeinated – best teas for energy
1. Black tea
If you're looking for the perfect alternative to coffee as an energy drink, then black tea is the go-to energy tea and should probably be your first tea to try – even with or without milk, and I have an article that helps you to understand the real differences between black tea and milk tea.
A standard cup of coffee typically contains 200 mg of caffeine whereas black tea contains 60 mg.
Made from the tea plant "Camellia Sinensis", black tea increases alertness and power in addition to boosting energy.
In this category, the same can be applied to that of Iced tea or Sweet tea. Which is on of the most popular teas in America.
The flavor profile of black tea goes by the terms brisk, earthy, spiced, malty, leather, fruity, smoky, nutty, metallic, citrus, caramel, sweet, and honey. You can feel free to add other herbs to make this tea more palatable.
2. Green tea
Green is popular as a lightweight tea for boosting energy.
It's loaded with nutrients, antioxidants, and amino acids that can be a healthy beverage choice as well.
The best aspect of green tea for energy is that it has less caffeine content. So while you may get your daily punch of caffeine for energy, it's not overwhelming.
This low caffeine effect makes it a safe energy drink for those who are caffeine sensitive as well. It will help you avoid the highs and the crashes that have you reaching for that afternoon pick-me-up!
In addition to caffeine the rich L-Theanine, and antioxidant effects in green tea, makes it not just a perfect morning booster but also a sustainer of energy and alertness throughout the day. 
Green tea has an earthy flavor that combines a mix of sweet, bittersweet, nutty, vegetal, buttery, floral, swampy, fruity, and oceanic notes. In specific steamed green tea taste bittersweet while the others taste naturally sweet. 
3. White tea
Another best energy-boosting tea – largely untapped and unpopular because of its delicate properties.
White tea is a true tea variety, as it's made from "Camellia Sinensis" just like black and green tea. 
Depending on the quality of your white tea, the caffeine content could vary. In general, it's the least processed tea variety with only 15 to 30 milligrams per eight-ounce serving. 
But depending on the quality of your white tea and from what they are made of, these caffeine content can vary. White tea is one of those teas where you get what you pay for!
The caffeine content of white tea and the catechins like EGCG helps in boosting energy, metabolism, and fat burning.
White tea also has a rich oxidant profile which is popular for reducing the risk of aging, weight, and heart diseases.
White teas have a delicate mellow flavor with floral, fresh, and fruity notes. Some white teas can have a nuttier, earth, and sweet honey flavor. You can read more about white tea here.
4. Masala chai
Masala chai is a great energy-boosting tea if you want a more palatable option. It also features in my list of 14 teas to 
Made using black tea masala chai has the same energy-boosting properties as black tea. But the addition of milk and other spices levels up masala chai as a strong energy booster.
You can read more about Masala Chai here. And it also features in my list of the 14 best teas to drink with Milk.
Don't rule out milk completely, it's a rich source of high-quality protein, containing all essential amino acids.
The saturated fat content in milk makes it a great source of energy. The spices in Masala chai also provide powerful anti-inflammatory and energy-boosting effects. This energy-boosting effect of spices is strong even in small doses. They also offer antioxidants that can help make you healthier.
The caffeine content in masala chai can vary based on how much black tea you use. In general, it has one-third the amount of a cup of coffee.
Milk and spices in masala chai lessen the "jittery" feelings black tea has, but it can be heavy. Besides, masala Chai has a creamy, spicy, and sweet taste profile that can be an absolute delight.
5. Yerba mate tea
Yerba mate tea has a perfect balance between caffeine and its level of antioxidants, which effectively boosts energy.
It helps with reducing the risk of cancer and cleanses your bloodstream of free radicals.
Yerba Mate tea reduces sleeplessness in the morning if you've had a bad sleep cycle that night. This goes a long way toward keeping you alert and focused as well as boosting your energy.
Yerba tea has a strong flavor profile with earthy and bitter notes and a eucalyptus smell. You can read more about Yerba Mate here because you will likely need the right drinking equipment for it.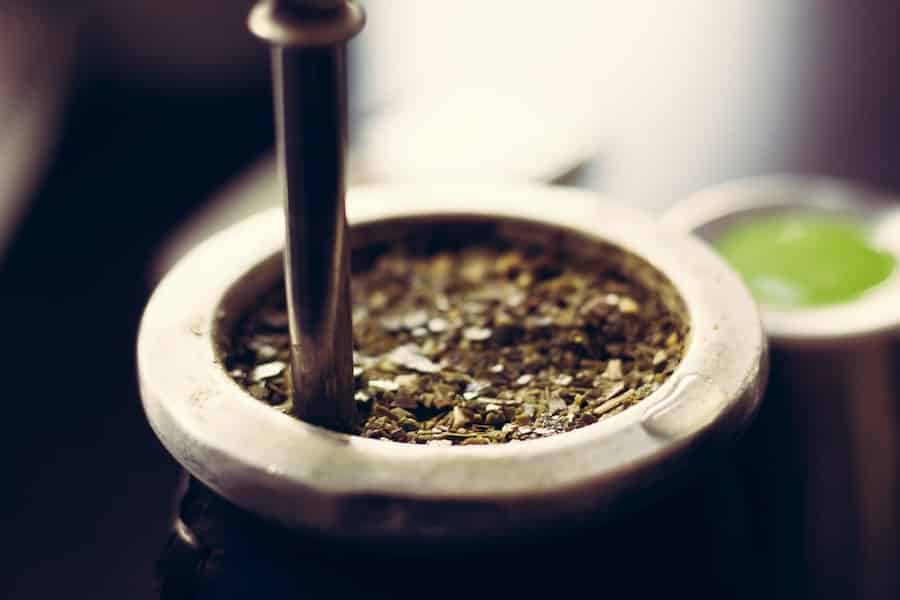 Caffeine-free – best teas for energy 
If your caffeine intolerant or find caffeinated drink too overwhelming as an energy booster, the teas below can make a great substitute.
These are also referred to as herbal teas – or infusions, and are not made using the true tea plant "Camellia Sinensis".
6. Peppermint tea
Peppermint tea is a great drink for someone with depleted energy.
It's a great drink to treat other early mornings' uneasiness like common cold and an upset stomach. 
The refreshing scent of peppermint offers a sharp and strong flavor without any caffeine effects. Here's more about the caffeine content in Peppermint tea.
Peppermint tea can be the most refreshing way to boost your energy in the early morning without any overwhelming effects from caffeine.
The clear, clean, and refreshing aftereffect from peppermint tea makes it a great beverage to improve your mood and alertness as well – and lots of us could do with that in the morning!
7. Ashwagandha powder tea
A little-known tea – but is one of the best caffeine-free healthy energy teas you can opt for. It's a pure herbal tea made from a blend of numerous herbal supplements. 
The herb in the tea is a staple from Ayurvedic medicine, an ancient holistic Indian medicine.
The Ashwagandha Powder has adaptogen, significant anti-inflammatory properties. These properties primarily help in preventing your body from stress and boost your overall energy levels.
The taste profile of this tea may not be palatable for many. In general, this tea tastes bitter and earthy and many find the taste of Ashwagandha Powder tea a little overwhelming, by itself. To override this flavor, many take this tea with a dash of buttermilk, honey, and/or cardamom.
8. Ginger tea
Ginger tea is famous for its anti-inflammatory properties that reduce inflammation and related tension. But ginger tea is equally effective in improving blood circulation or blood flow which helps in boosting your energy.
Although ginger tea is caffeine-free, its spicy herbal flavor gives the right punch to boost your energy, similar to caffeine. 
Further to this, ginger tea increases adrenal catecholamine secretion. These are, essentially, compounds that can modulate the consumption of energy. So start sipping on some ginger tea when your energy drops.
Ginner tea tastes rather floral, and mild, with a spicy, peppery, and heat-inducing effect. The spice taste is accentuated more when using fresh ginger tea, which also comes with strong floral and peppery notes.
9. Ginseng tea
This is a popular tea used for centuries in traditional Chinese medicines and the Chinese tea culture. Ginseng contains a high profile of active compound concentration that both invigorates and relaxes the body.
It's equally rich in antioxidants which supports anti-inflammatory functions. However, it's the oligopeptides (often called Peptides) and polysaccharides compound in this tea that can act as an energy booster.
These compounds produce a higher level of energy functioning within your body cells and offer a more sustained energy level.
Ginseng has a sharp earthy flavor with a strong aftertaste. It can sometimes be very bitter, depending on how you brew it. It's best to drink this tea along with your breakfast to override any unpalatable flavor.
10. Rooibos tea
Rooibos tea is becoming a popular caffeine-free tea in recent times. Well-known for its amazing flavor, rooibos tea is made using fermented leaves that give out a unique scent. My article all about Rooibos tea is here, or check out my pros and cons of Rooibos tea. 
It has properties and aroma that effectively pumps up your energy. It also offers additional benefits from the risk of skin cancer and protects your skin from free radicals as well.
Rooibos tea has a unique blend of smoky, sweet, floral, geranium, honey, woody, grassy, vanilla, herbal, and caramel flavor profile.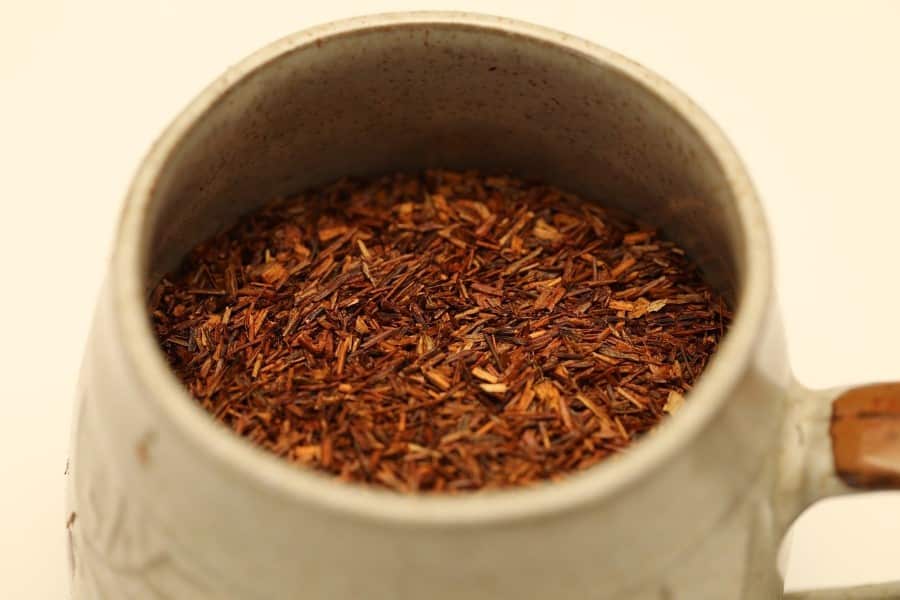 11. Nettle tea
Nettle tea is another great tea to boost your energy. It also contains a good profile of healthy herbs, vitamins, and minerals.
Besides an energy booster, its healing compounds and essential nutrients make it a great beverage to enhance positive energy. It also helps with allergic symptoms, cleans your kidney, boosts iron levels, and prevents hair loss.
Nettle tea has a taste profile that is rich on its own. It has an herbaceous flavor with earthy and sweet notes more like a sweet version of seaweed.
12. Chamomile tea
Chamomile tea is traditionally taken during the evening for its calming effect.
But for those who need to start the day in a focussed and calm mood in the morning, this can work very well, particularly if suffering from increased anxiety and unable to "get going" during the morning.
It's another caffeine-free energy tea that improves your concentration read more about Chamomile tea here. But that's not the best part of chamomile tea…
Chamomile tea has special compounds that can prevent stress hormones and serotonin while increasing the release of dopamine.
This effect helps toward boosting the release of happy hormones in return.
When happy hormones increase, your focus, attentiveness, mood, and overall positive energy towards your day can be high.
Chamomile teas have an earthy taste, with notes of crisp green apple flavor.
To finish…
There's my selection of teas to help get your morning game face on and face the day like a superhero! If I missed some off the list you want to add then let me know in the comments. And feedback on how these went and helpful tips for others is always welcome.
Tea drinking is a whole new world for many people – and it's bigger than you think! So consider my Tea Sommelier course to get a great start on tea, and be the tea connoisseur among your friends and family with my easy guide and awesome tips.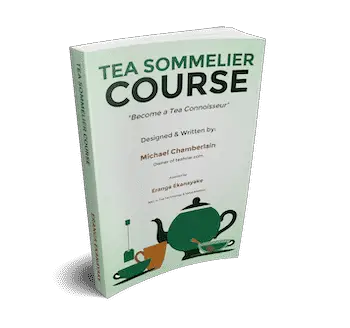 Take the fast track and become a tea connoisseur
Whether for enjoyment or considering a career as a tea sommelier. This course has everything you need to enhance your tea knowledge and tea-tasting skills.
This course keeps it simple with step-by-step tea tasting and easy reference guides
For pleasure, or as a precursor to a career in the tea industry. Find out what tea sommelier actually does, their career paths, and what they earn.

Find out more about the Teahow Tea Sommelier Course!
Find out more about the Teahow Tea Sommelier Course!