Afternoon Tea …is still the act of drinking Tea, but it's the occasion that makes it so different. It's historic, ritualistic in nature, and renowned as a very British pursuit, for centuries this tradition has been maintained and even modernized.
Afternoon Tea was a pursuit of the 19th Century upper class. Introduced by the Duchess of Bedford in 1840 as a means to stave off hunger until the evening meal. It's now a tradition of drinking tea from china crockery, whilst offering finger sandwiches, pastries, and cakes in hotels and tea rooms.
This custom quickly spread to places as far-flung as India and the Caribbean. And still maintained today in many Top London Hotels and independent tea shops around Britain … and beyond. Let's look at How Afternoon Tea has evolved.
Allow me to set down my now almost empty teacup (no pinky!). And select my final pastry as I relay to you what on earth this afternoon tea fiasco was all about!
What is Afternoon Tea – Tea Time
Generally held between 3 pm and 5 pm, by invitation, often weekly or even daily. 'On the Lawns' during summer months and in the drawing room at other times of the year. Attended by the society ladies of the gentry. Mainly for the purposes of afternoon discussions.
Today it might be called 'meeting the girls for lunch'. But back then, it was far more than that, it was an opportunity to influence the Victorian social ladder.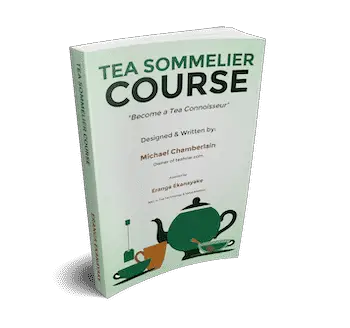 Take the fast track and become a tea connoisseur
Whether for enjoyment or considering a career as a tea sommelier. This course has everything you need to enhance your tea knowledge and tea-tasting skills.
This course keeps it simple with step-by-step tea tasting and easy reference guides
For pleasure, or as a precursor to a career in the tea industry. Find out what tea sommelier actually does, their career paths, and what they earn.

Find out more about the Teahow Tea Sommelier Course!
Who Attended Afternoon Tea?
Towards the mid to late 19th century, to be invited to attend was an honor without acquiescing – unless you returned a 'regret' letter back to the host.
Once you were invited into and amongst the higher echelons of the ladies' society, how you carried yourself at such an event would often determine your standing within the community and amongst your peers.
To pander to and ingratiate yourself with the matriarchs at such an event was a surefire way to progress in societal circles. However, saying, or doing the wrong thing could quickly leave you out in the cold.
Difference Between Afternoon Tea and High Tea
As Afternoon Tea increased in popularity, it eventually became an aspiration of the working classes. In the North of England Afternoon Tea turned to 'High Tea'.
The working class was unable to attend tea in the afternoon as they toiled in factories and on farms. Instead, they would partake in a similar ritual when they arrived home around 5 pm – 6 pm
So the original Afternoon Tea (or Low Tea) and the latter High Tea each derived their names from the height of the table at which they were held.
High Tea was typically taken as part of an evening meal (or as the entire evening meal) for the lower classes. Therefore it was eaten at the Dining Table, as opposed to lower – or occasional tables in the afternoon, which is where afternoon tea was taken.
In fact, so lower class were they, that High Tea had to form part of their evening meal because they could rarely afford an Afternoon Tea AND a later evening meal as well. High Tea then would often include Vegetables and other more sustaining foods.
As well as this, afternoon tea was often beyond the possibilities for the Working class, as they were at work when Afternoon Tea would typically have taken place.
Afternoon Tea History
Afternoon tea wasn't so much 'invented', fairer to say it 'evolved'… borne out of the whim of an upper-class Lady – well a Duchess, actually!. So let's look at the history further…
Who Started Afternoon Tea?
For the tradition of Afternoon Tea – or originally called, 'At Home', we have Anne Marie Russell, Duchess of Bedford to thank as the creator. One afternoon in 1840, at her home in Woburn Abbey, Bedfordshire, England, she simply could not wait for the evening meal!
She would regularly complain about the hunger she felt between the traditional two meals of the day – those being breakfast and the formal evening meal served around 8-9 pm.
She finally could stand it no more, she ordered her kitchen to bring her some tea and cakes, to be served privately in her boudoir around 4 pm. It wasn't long before this private ritual expanded to include a few close 'society' friends – by initiation only of course.
Afternoon Tea in London
When she returned to London, she maintained her routine and invited other 'ladies of standing' to join her. The popularity of such an event soon began to grow in London's fashionably rich circles and the 'At Home' tea became a bonafide event in every ladies' diary.
Quickly spreading beyond London and permeating society throughout the UK. It was now seen as a respectable afternoon pastime, mainly involving the ladies, and now becoming respectable enough to move from the boudoir into the drawing room. It changed from the idea of 'At Home' tea to Afternoon Tea.
There would always be a lady somewhere within short traveling distance who would be holding their afternoon tea, so this was then seen as a way for women to socialize and bond – provided you conducted yourself accordingly.
Afternoon Tea became a more popular occasion when Queen Victoria began to adopt the ritual. Often these would become sizeable events – for up to 200 guests invited at a time.
Within a few years tea parties, tea gardens, and tearooms were quickly being set up all over England. Hotels had 'Tea Lounges' which would serve Tea at 4 pm. For the first time, men were able to attend a tea at a hotel or lounge and not feel out of place.
Afternoon Tea in the 20th Century
The popularity of any tea-based event faded significantly during WWI as rationing – and the importance of winning a war took over.
Tea Dance halls continued to be the most popular type of event between WWI and WWII, although this also eventually waned and after WWII the idea of afternoon tea was almost completely wiped out.
Carried on only as a specialty, mainly at the expensive and more traditional Hotels in London and through some more traditional tea rooms around the UK.
Also in the early 20th Century, 'Tea Dances' would become popular as a social event. Dedicated 'Dance Halls' began to open up around Britain.
Later compounded by a snubbing of the 'Posh' cultural traditions during the '60s and '70s
Afternoon Tea in the 21st Century
As we hurtled close to the 21st Century, the coffee boom became the new fashion, tea was replaced with all manner of coffee styles and types, and Coffee bars and cafes catering to the new Millennial tastes. Tea waned but remained strong.
In the early 21st century, there was a very British 'Vintage' style mass revival. Making 'Britain Great Again' became apparent with a new twist on fashion through to vintage style furniture.
Old was the new – new, and the rise in Vintage traditions made Britain Britain was re-establishing itself. Even Weddings became a Vintage business, and Afternoon Tea was served at Wedding receptions!
With this revival came the resurgence of Afternoon Tea. This also led to greater popularity within the similar forms of Devon or Cornwall Tea, or better known as Cream Tea. And the idea of tea parties.
Ladies would lunch at the local tea rooms as well as Coffee shops, to re-ignite the weekly rituals of socializing again.
Whilst Coffee now takes center stage and meeting at a coffee shop has replaced the lunchtime menu as well as the hunger held at bay by Afternoon Tea. Tea has still remained a popular favorite.
The tradition has undergone some radical changes. Tea is less about eating between mealtimes as this has become the norm in modern Britain. Instead, it's a more taste-oriented affair.
Spin-off varieties like herbal teas, Tisanes, Chamomile, Green Tea, and Peppermint become strong favorites as Tea searches for its new place in the world.
Be Part of the New Tea Image, with Blue Tea
Look closely and you'll find tradition alive and well, in the numerous quaint tea shops around the UK, or dining experiences to be savored at the Savoy, Ritz, Fortnum & Mason, or one of the other extravagant London Hotels – where booking in advance is most essential!
If nothing else, the rituals of Traditional Afternoon Tea are now a mainstay of the tourist industry. In the eyes of tourists, Britain still remains a nation of tea drinkers and, in fact, they still consume a LOT of tea!
Find out What The Most Popular Tea in England Is!
What To Wear
Conducting yourself accordingly also meant dressing in the correct attire for the occasion. In the 19th century, this meant long gowns, suitable brimmed hats, and long sleeve gloves. With a suitable amount of lace adorning all of them.
Tea Dances and afternoon tea in the 20th Century were a pastime over the war years and beyond, enjoyed by the masses – both men and women alike.
It became a more 'dressed down' affair, again with long sleeveless dresses but certainly less lace and usually more color. High heels were replaced with short heels or court shoes and gloves changed to white plain silk or none at all. Hats were optional but faded towards the mid-20th century.
If you're at the menu stage, then you might be considering putting on an afternoon tea!!! Before you go ahead, I'd seriously recommend getting the correct tea set, this delightful afternoon tea set from Amazon is what I'd recommend!
Afternoon Tea Menu
Variety adds a little spice when it comes to the Afternoon Tea menu and there are no set rules around what should be served. However, some things are of course essential, and other delightful additions will always complement a good Afternoon Tea.
A choice of Loose Leaf Tea, Darjeeling, Earl Grey, or Lapsang Souchong, served using thin bone china crockery – of course! Or add a Tisane variety for a modern touch.
Delicate sandwiches (Cut into finger-sized slices) typically Cucumber. Egg & Cress, Smoked Salmon, and Ham & Mustard
A selection of pastries, Crumpets, or Danish Pastries
Scones accompanied with clotted cream and Jam Preserve
A selection of Cakes, usually small and sweet. Battenberg, Cupcakes, and Bakewell Tarts.
Modern Day Afternoon Teas also include Savouries, such as Sausage Rolls, Pork Pies, and even Pasties.
Optional small chocolate cakes and/or mints during or afterward, for a little extra indulgence.
You'll need the perfect cake stand if you are seriously going to take afternoon tea! It's important to get the right kind and make the right impression on the ladies. So I'd recommend this Royal Albert Tiered Cake Stand from Amazon!
Needless to say, unless you're at a swanky hotel, then Afternoon Tea is a far less formal event these days. Any that are held at home are usually for fun and as a quirky but different occasion – more so than any other reason.
Final Thoughts …and the Last Pastry!
So the answer to your questions about English afternoon tea, afternoon tea time or what time is afternoon tea, or even why is afternoon tea so popular or different from High Tea? This article should hopefully answer all of those for you!
That being said, if you plan on holding an afternoon tea party – I will, of course, expect an invite 🙂
Interested in Tea? Do check out my curated tea-ware pages for that perfect tea gift, or to find that perfect vintage Afternoon Tea set you've been looking for. I've researched it all just for your delight!
Related Questions:
What is Builders Tea? Developed from the working class as a means to enjoy a break with refreshment during the working day. B typical black tea brew was the mainstay of tradesmen across Britain and remains so today. If you want to know exactly what it means, then check out my article on What is Builders Tea
Don't forget to check out my Tea Sommelier Course.