When you think of tea, chances are that an image of a black or brown-colored drink would pop up in your mind. However, there is another type of tea that has an electric blue color, can change colors, and has zero caffeine.
What is Blue Tea? Originating from South East Asia, blue tea has been around for centuries, derived from the Clitoria ternatea plant, also called the butterfly-blue pea, blue-pea, or Asian pigeonwings. It's recently gained popularity due to its many health benefits. This caffeine-free, herbal blue tea is actually a tisane
The butterfly blue pea flowers are infused in hot water to give this rich, bright-colored, floral-smelling blue tea. So it's actually a Tisane; a herbal concoction made from the infusion of leaves or herbs.
What sets this bright-colored beverage apart is its mesmerizing color and its extraordinary ability to change color, like a mood ring, with a change in PH.
Just adding a few drops of lemon juice transforms the blue-colored blue tea into the most magnificent purple color. Mix in a few hibiscus leaves and you end up with a gorgeous red tea.
Blue tea touts a number of health benefits, making it not only pleasing to the eyes, but also a healthy drink.
If you're looking to just buy some really good blue tea, then check out my recommendation on Amazon, it's a 100% Naturally Dried Blue Tea.
Which Country Produces the Most Tea?
Find out here
Origin of Blue Tea
Seeing how few people are aware of blue tea, one might believe that it is a recent discovery. However, this bright-colored beverage has long been a part of the culture of Thailand, Vietnam, Bali, and Malaysia.
Originating from South East Asia, blue tea, unlike other teas isn't derived from the Camellia Sinensis (tea plant).
As mentioned, instead, blue tea is derived from the Clitoria ternatea plant, also referred to as the butterfly-blue pea, blue-pea, or Asian pigeon wings. The shape of the flowers of Clitoria ternatea was believed to resemble female human genitals, hence the name "Clitoria" from "Clitoris".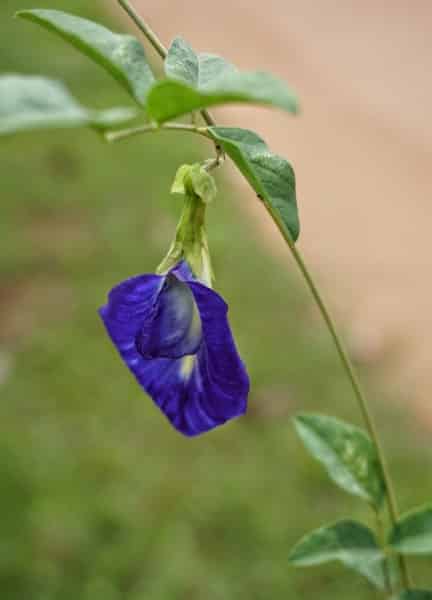 The butterfly pea plant is native to South Asia and is part of the Fabaceae pea family. The blue tea plant, butterfly blue pea, has been used for ages for dyeing, cooking, and making cosmetics.
Blue tea is made from a combination of dried butterfly pea flowers and lemongrass. The earthy flavored Blue tea, mixed with lemon and honey, is commonly enjoyed post-dinner, in spas, or as a refreshment in Thailand and Vietnam.
This drink, known as the 'Nam Dok Anchan' tea is often flavored with mint, cinnamon, ginger, and passion fruit, and is enjoyed both hot and cold.
The Malaysians use blue tea plant to make their popular dish, Nasi Kerabu. Nasi Kerabu is a Malay rice dish in which blue-colored rice is eaten with fried fish or chicken, salad, pickles, and crackers.
The Malaysians also use blue tea plants for preparing their traditional dessert – kuih or kueh. Most popularly though, it is used to create a "mood ring" cocktail; ice cubes of blue tea are added to this cocktail, which then changes color from bright blue to a vivid purple as the ice cubes dissolve.
Health Benefits of Blue Tea
While I would happily drink blue tea solely for its gorgeous color, Blue tea has more to it apart from its bright color.
Recent studies have shown blue tea to offer various health benefits, including immune-boosting properties, improved cognitive ability, and weight loss.
Blue tea has long been a part of Ayurveda and, as published in the Journal of Ethnopharmacology "it has been used for centuries as a memory enhancer, nootropic, antistress, anxiolytic, antidepressant, anticonvulsant, tranquilizing and sedative agent."
It seems that blue tea is just waiting to take the health world by storm. Particularly when it comes to weight loss. Here's the quick list of benefits…
Weight Loss
All Natural Paracetamol
Beneficial for Eye Health
Combats the effects of Diabetes
Zero Caffeine
Good for Heart Health
Packed full of Antioxidants
Anti Aging Properties
Combats premature hair loss / Male Pattern baldness
Effective against Stress, Anxiety, and Depression
Overall Brain Health
Anti Inflammatory Properties
Blue Tea Is Effective for Weight Loss
With increasing awareness regarding the health risks associated with obesity, more and more people are looking for ways to lose weight and stay fit. Drinking teas for weight loss have been quite a trend and it seems like blue tea might just be the new weight loss tea.
According to one study published in the International Journal of Obesity and Related Metabolic Disorders, blue tea helps with weight loss by preventing and fighting against fatty liver disease.
Fatty liver disease is responsible for causing weight gain, especially in the belly area. Blue tea helps burn belly fat by protecting against fatty liver disease.
The hero compound in blue tea is the catechin EGCG, epigallocatechin gallate, which speeds up the calorie-burning process by boosting the metabolism a boost. Studies have found blue tea to contain higher levels of the compound EGCG in comparison to other teas, making it a potent weight loss drink.
Antioxidants found in blue tea have shown anti-inflammatory and diuretic properties which help it detoxify the body and help shed water weight accumulated due to water retention. Enjoy a cup of this gorgeous colored drink post meals to detoxify and boost your metabolism.
Teas that claim to have similar dramatic weight loss benefits include Senna tea and Catherine tea. And in general, here's what herbal tea is good for.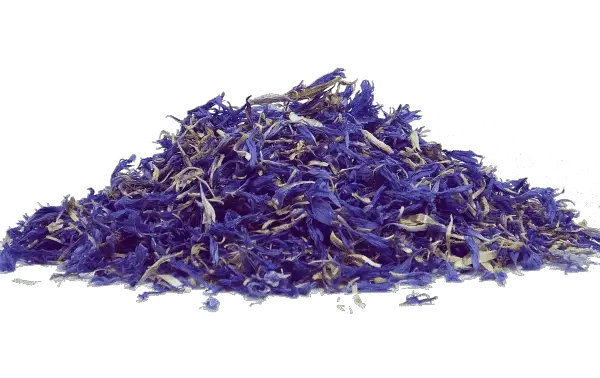 Blue Tea Is an All-Natural Paracetamol
If you are down with a fever with nothing but blue tea nearby you need not worry because you have an all-natural Paracetamol.
Findings from the journal phytomedicine revealed that blue tea was shown to have antipyretic properties and mimic effects similar to that of Paracetamol, a pain reliever, and a fever reducer.
According to one investigation, blue tea extract, when given in doses ranging from 200- 400 milligrams, was shown to significantly reduce the body temperature for up to five hours of ingesting the extract.
Blue tea helps reduce fever by causing blood vessels underneath the skin to expand; this cools the blood by increasing the blood flow and reducing the temperature.
Ever Tried Yerba Mate?
Here's Everything You Need To Know
Blue Tea Is Beneficial for Eye Health
Blue tea is also referred to as "Bunga Telang", which means "clear vision", is highly beneficial for maintaining strong and healthy eyes.
The people of Bali use blue tea as a natural remedy to treat eye ailments. The beverage is also quite popular in Indonesia for the same reason.
The blue tea plant, Clitoria Ternatea, is packed with health-boosting antioxidants. One such antioxidant is proanthocyanidin, which is responsible for increasing blood flow to the capillaries of the eyes.
This makes blue tea effective in treating retinal damage, glaucoma, or blurred vision.
Blue Tea Is Effective Against Stress, Anxiety, and Depression
If a long day at work increases your stress and anxiety, blue tea is for you. Blue tea has been used as a stress reliever since ancient times and has an adaptogenic effect on your body in reducing stress.
Antioxidants found in blue tea have been shown to lift the most moods and relax the nerves, enabling a good night's sleep. According to one study, published in the journal Pharmacology, Biochemistry and Behavior, blue tea has been shown to have a positive impact on the central nervous system (CNS) of mice.
The study also revealed that blue tea has been found effective against depression, stress, and anxiety. So, grab a cup of blue tea that is not only pleasing to the eyes but also calming for the nerves.
Blue Tea May Be Effective for Diabetics
Diabetes has been directly responsible for 1.6 million deaths in 2016. While we still don't have a cure for it, research reveals that color-changing blue tea is actually effective for diabetics in keeping their sugar levels in check and curing type II diabetes.
Taking a cup of blue tea between meals has been shown to regulate blood sugar levels and lower blood glucose levels. Blue tea inhibits excess glucose absorption from food and, hence, helps keep blood sugar levels in check.
According to a study conducted on diabetic rats, published in the Journal of Applied Pharmaceutical Science, blue tea extract was found to considerably reduce their serum glucose levels and increase their body weight.
The study concluded that blue tea extract showed anti-diabetic properties similar to that of glibenclamide, an anti-diabetic drug.
Blue Tea Is Good for Heart Health
Blue tea is packed with antioxidants that not only protect you from infections but are also beneficial for keeping your heart in a good shape.
Studies have found Blue tea to be effective in lowering high cholesterol levels-a major risk factor for heart disease. Blue tea has been shown to protect against heart diseases by curbing Hyperlipidemia. Hyperlipidemia refers to an abnormally high concentration of lipids or fats in the blood.
It is also responsible for a number of heart diseases including blockage, blood clotting, and heart attack. According to a 2010 Pharmaceutical Biology study, butterfly pea extract, when taken with the herb Vigna mungo, lowered serum total cholesterol by a considerable amount.
It also showed a significant reduction in triglycerides and low-density lipoprotein (LDL) cholesterol levels.
Blue Tea Is Packed with Antioxidants and Has No Caffeine
Why go for supplements when you can get all the antioxidants you need in blue tea?
Blue tea is packed with health-boosting antioxidants; in fact, it is the only tisane whose antioxidant levels are comparable to green tea. Free radicals are responsible for chronic inflammation, low immunity, and a number of other diseases, including cancer.
Antioxidant, called Proanthocyanidin, found in blue tea provides protection against oxidative damage done to cells by free radicals. Cyclotidesfound in Blue tea is free-radical fighting peptides.
And as if that's not all… Blue tea is also rich in flavonoids that boost the immune system and fight off diseases.
Furthermore, blue tea has also been shown to behave as an expectorant and helps provide relief from cough and asthma.
A big pro of blue tea is that you can get the calming benefits of tea without the jitters caused by caffeine. Since blue tea isn't made from the Camilla Sinensis plant, it has no caffeine.
This means you can enjoy another cup of blue tea without feeling guilty.
Blue Tea Promotes Anti-Ageing
Having clear, blemish-free, youthful-looking skin is everyone's dream. Blue tea is packed with antioxidants that are great for your hair and skin and prevent premature aging by fighting free radicals.
Blue tea contains the compound Anthocyanin which increases blood flow in the scalp and strengthens the hair follicles. The people of Thailand have been using the blue tea plant, Butterfly Pea herb, for centuries for treating
Premature Greying and Male Pattern Baldness
The skin shows signs of aging by a protein-damaging process called glycation. Blue tea has anti-glycation properties, meaning that it inhibits the process of glycation and keeps your skin looking youthful.
Elastin and collagen are important compounds that maintain youthful-looking skin by preventing wrinkles and maintaining skin elasticity.
Flavonoids found in blue tea have been shown to increase collagen and skin elasticity. One such flavonoid found in blue tea is Quercetin, which strengthens hair and skin cells, and retains hydration in skin cells.
Blue Tea Is Good for Brain Health
Blue tea has also been linked with good overall brain health. The research concluded that the antioxidants found in blue tea boost brain power, increase cognitive skill and memory, and are good for the central Nervous system (CNS).
Animal studies have shown that blue tea extract enhances memory, cures depression, calms nerves, and increases cognitive ability. However, much research is still needed on the subject.
One research found that blue tea extract, in a dosage of 50 to 100mg/ kg, increased memory in rats over the course of 30 days.
Another study found out that the extract from the root of the blue tea plant was more potent than the leaves or stem extract. Acetylcholine is a compound responsible for effective communication between nerve cells. With age acetylcholine levels decline, causing memory loss and other brain-related issues.
Blue tea contains Acetylcholine and regular consumption of blue tea can prevent memory loss, increase memory and cognitive skills. Grab a cup of blue tea and give your brain a boost.
Blue Tea Possesses Anti-Inflammatory Properties
According to a study, published in the "International Research Journal of Pharmacy", the antioxidant content in blue tea is high enough to fight against disease-causing inflammation.
The high amount of antioxidants present in blue tea is responsible for its anti-inflammatory properties, which not only help reduce inflammation but also protect against a number of chronic diseases.
Blue tea extracts also exhibit anesthetic properties, and as such, have been used for ages to provide relief from pain and swelling. Blue tea has been shown to be equally effective in treating both external and internal inflammations.
Blue Tea seems so good, I might add it to my list of…
Best Teas For Beginners
Flavonoids found in blue tea boost the immune system, enabling it to fight against inflammation and infections. Indian studies revealed Blue tea extract to exhibit considerable anti-microbial properties against Staphylococcus Aureus.
Jade tries out blue tea for us in the video below, and gives us her opinion, and goes over the benefits. It's an amazing taste with all the benefits, so I'd definitely recommend you try it out!
You can get the best 100% naturally dried blue tea on amazon if you can't find it locally.
Blue Tea Side Effects
There are no known side effects of blue tea, it is known to be extremely safe and super healthy to consume. However, over-consumption of Blue tea may cause nausea and diarrhea. Also, pregnant and lactating women are also advised to consult their doctor before drinking blue tea.
There are no known side effects of blue tea
However, the book "Home Remedies," does point out that herbal preparation from the powdered seeds and leaves of the blue tea plant may cause severe nausea and diarrhea.
Also, a word of caution. Pregnant or lactating women should avoid blue tea as there is little data on its effects on them. Again, if in doubt, consult your doctor!
Moreover, if you happen to be taking any sort of medications it is advisable to get your doctor's approval before drinking blue tea.
With respect to the safety and toxicity of blue tea, a study evaluating oral toxicity of blue tea extract with doses up to 3000 mg/kg bodyweight failed to notice any relevant toxicological signs.
Nevertheless, should any discomfort or other symptoms arise, consult your doctor immediately.
It seems that blue tea is just waiting to take the health world by storm.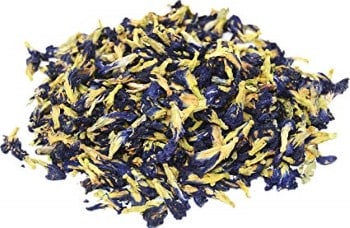 My Blue Tea Buying Recommendation
You can get the best 100% Naturally dried Blue tea on Amazon, it'll arrive quickly so you can get going with the recipes below!
How to Make a Cup of Blue Tea
The many health benefits of blue tea must have convinced you to make a cup of this mesmerizing beverage. Blue tea is rather simple to make and can be enjoyed both hot and cold.
Hot Blue Tea Recipe
Ingredients
1 cup hot water
1 heaped teaspoon of blue tea leaves or 10 dried flowers
Method
Pour your hot water in a glass or mug. Add in your tea leaves and let it steep for around 15 minutes. You'll see the blue color from the leaves dissipating into the water, turning it into a beautiful indigo color. When the leaves have released the majority of their color, strain your blue tea. Your cup of blue tea is ready to be enjoyed.
You can add flavorings like cinnamon, ginger, lemongrass, and honey to it. Adding lemon would, of course, give you a beautiful purple-colored beverage. And a handful of hibiscus leaves would give you a bright red tea.
Blue Tea Lemonade
Cool and refreshing; this is bound to be your favorite summer drink. It will also likely impress your friends, especially if you add in the color-changing tricks outlined earlier.
Ingredients
1 cup hot water
2-3 tsp. butterfly pea tea (blue tea)
Crushed Ice
Lemon juice from 1/2 lemon
Honey or sugar as per taste
Method
Pour your hot water in a glass or mug. Add in your tea leaves and cover with a lid. Let it steep for around 15 minutes, until the water turns indigo. Strain your tea and stir in lemon juice and marvel at the changing color. Add honey or sugar and serve over crushed ice.
Interested in tea? Then make tea more interesting! Learn more and create great tea-tasting experiences for you, your friends, and your family with my Tea Sommelier Course!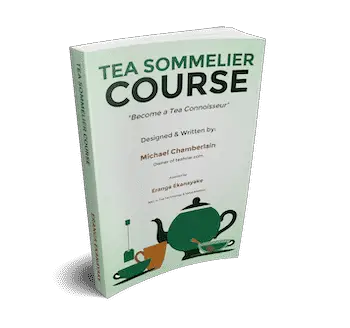 Take the fast track and become a tea connoisseur
Whether for enjoyment or considering a career as a tea sommelier. This course has everything you need to enhance your tea knowledge and tea-tasting skills.
This course keeps it simple with step-by-step tea tasting and easy reference guides
For pleasure, or as a precursor to a career in the tea industry. Find out what tea sommelier actually does, their career paths, and what they earn.

Find out more about the Teahow Tea Sommelier Course!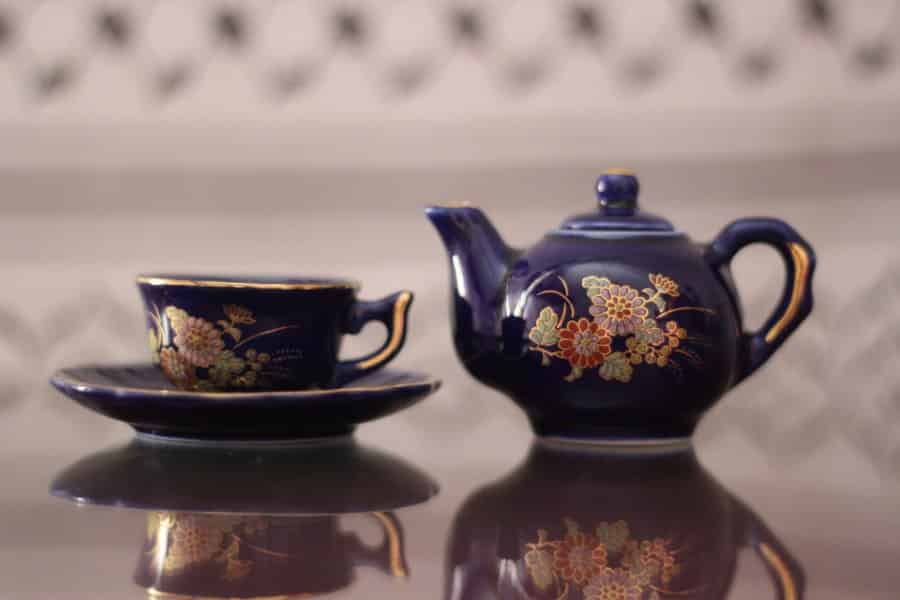 Here's a Youtube Video showing the various ways you can wow your tea guests with Blue Tea, Blue Ternate drink recipes!
Here's a video showing how to make a cocktail using blue tea
To Conclude
Other tea always seems to have some drawbacks that make you think twice before deciding to drink it. But with blue tea, as far as I can tell, aside from one or two times to avoid it, like when pregnant (maybe) then it just seems like good news after good news!
I can't see a reason not to drink this more often …so much so I'm considering adding it to my list of Best Teas For Beginners!
So there it is. The industry is always looking for the next big beverage winner. I think Blue Tea has the potential to reach a much wider audience than it currently has.
So, when Blue Tea becomes the next big tea craze, then you can say you heard it here first.
If you liked this article then please share it. Also, don't forget to order my Tea Sommelier Course, and check out my tea-wares page for the best equipment I can recommend to get you started or to improve your tea-making skills. Along with some lovely selected gifts.
Additional Blue tea questions answered
How Does Blue Tea Taste? Don't expect it to taste like normal tea or even most Tisanes. Blue tea has a woody and earthy flavor, much like green tea – even though it is actually a herbal tea.
Does Blue Tea Have Caffeine? Blue tea is a floral tea and has no caffeine. Although many flora and fauna may contain trace elements of Caffeine. If you drink tea derived from the Tea Plant Camellia Sinensis, then expect higher caffeine levels.
Do You Add Sugar to Blue Tea? Although you would normally drink blue tea as it is, yes, sugar can be added to blue tea if you really need to sweeten the flavor. It is not advisable to add milk to blue tea though.
Can Blue Tea Be Taken Cold? Blue tea is normally served hot, or at least pleasantly warm. However, if desired, then yes, Blue tea can be drunk cold.
As someone who has written extensively about both Blue tea, and here on blue lotus these teas, I believe can answer this question very thoroughly.
Is Butterfly pea tea the same as Blue Lotus tea?
Butterfly pea tea is not the same as blue lotus tea. Butterfly Pea tea is derived from the Clitoria ternatea plant and has numerous health benefits. Blue lotus tea is derived from the blue lily flower (Nelumbo nucifera) and is used for herbal remedies such as sleep, anxiety, and as an aphrodisiac.
I've also written about Blue lotus tea here for further information