We know that ginger has numerous benefits, and this is also the case when ginger is added to tea. So in this post, we're going through the benefits of ginger tea for the skin.
So let's get into the subject with a quick list, then we'll get into some more details
The benefits of ginger tea for the skin
Below are six of the main benefits of ginger tea for the skin.
Boosts collagen production
Fades scars, acne, and blemishes
Promote healthy skin
Flushes out toxins 
Heals wounds on the skin 
Reduces cellulite
You can have up to 5 cups of ginger tea in a single day. But, it's best to have a cup after 30 minutes of waking up or before bed.
For a better understanding of when to drink tea see my article on how many cups of tea per day. Another helpful point might be when to drink green tea.
So now we'll go through the five main benefits in more detail.
Boosts collagen production
Ginger tea is said to boost enzymes in the skin that stimulate collagen production. This includes the MMPs, otherwise known as collagenase.
If you know a few things about collagen, it's that collagen contributes significantly to retain the youthful appearance of your skin. 
So one of the main ways that ginger tea can benefit the skin is by acting as a beneficial anti-aging tool that naturally boosts collagen production.
These anti-aging properties help you successfully prevent fine lines or wrinkles from forming in your skin. 
Fades scars, acne, and blemishes
Ginger tea is rich in toning and antioxidant properties.
These properties go a long way toward helping your skin to normalize hypopigmented scars (scars in your skin that may look lighter than your actual skin tone), thereby helping to reduce the appearance of scars on the skin's surface. 
In addition to this, the same antioxidants act positively against blemishes and acne …helping to "even out" your skin texture and, in general, assisting in the restoration of your skin from evident damage.
Promotes healthy skin
A cup of ginger tea made using refined ginger also helps a lot with pores, oily and shiny complexions.
This mixture elevates the skin texture, the complexion and improves the overall skin structure, especially for women who suffer from skin issues.
If you want to explore ginger tea combinations further, there's a lot you can add to boost health benefits further. For example, try Ginger and honey tea benefits, or Cinnamon and ginger tea benefits.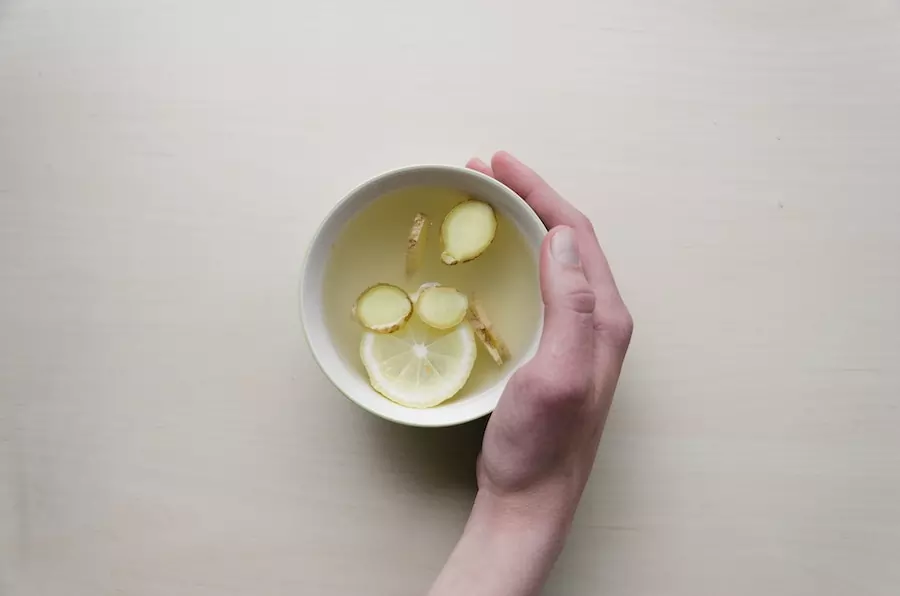 Flushes out toxins
Tea is already known to be full of antioxidants, but that's mostly concerning the main types of tea from the tea plant.
But ginger tea is a herbal tea, and herbal teas are also good for numerous reasons.
For ginger tea, it helps you naturally flush out toxins that may be causing harm to your skin.
Plus, it also encourages blood circulation. This improved blood circulation nourishes your skin and helps it protect from external environmental factors such as dust and pollution.
Flushing out toxins and skin nourishment together also helps your skin to recover from damage easily and makes your skin tauter.
Heals wounds on the skin
Ginger has long been used in Chinese tea culture as a natural remedy for a raft of ailments.
The reason for its wide use in ancient medicinal practice is down to its antiseptic properties. Therefore, ginger tea also adopts these rich antiseptic qualities.
This property helps your skin speed up the healing process.
So if you're suffering any minor cuts, abrasions, or wounds in your skin, then consuming 1-2 cups of ginger tea per day can help to speed up this healing process.
Reduces cellulite
In addition to the detoxifying properties of ginger tea, it is also known to reduce cellulite. 
This in turn supports your skin to minimize any evident appearance of dimpling on the surface.
Cellulite, in general, acts as a natural barrier to collagen production. Cellulite damages the collagen bands within the skin. We touched on collagen above and how ginger tea for the skin can help boost collagen levels.
Ginger tea can reduce cellulite at the same time as boosting collagen production, by stimulating a healthy production of collagen. This process improves the overall elasticity of the skin …improving elasticity beneath the skin makes for a more even appearance and texture on the surface
How much ginger tea should I drink to benefit my skin and when?
There is no hard rule around this. I'd follow my previous recommendation on when to drink various types of tea.
As a guide for many herbal teas, You can consume up to 10 herbal teas throughout the day. However, this can vary depending on the strength and type of the tisane.
When it comes to ginger tea for the skin, 3 to 5 cups of ginger tea per day is more than sufficient for optimal skin benefits. Drinking more than 5 cups will not gain further benefits, and may be considered too much.
Anything above 5 cups is almost certainly not needed, and likely not recommended to gain any further benefit. 3 to 5 is an optimum level to help benefit your skin.
When it comes to ginger tea for the skin, I'd say that keeping it to three cups distributed throughout the day is considered plenty. 
If you're considering having only one cup of ginger tea per day, then it's best to have it either in the morning or before bed. Around 30 minutes after waking up or before bedtime is a great time.
Ginger tea for the skin – more tea help
s most of us know, ginger is a magical ingredient. And there's no reason why you can't add ginger tea into your diet to gain its magical youth-retaining properties.
Be sure to check out my related articles around ginger and other ingredients just add even further benefits.
And if you like tea in general, then you'll love my tea course. It's a fast-track method to up your tea skills within your circle of family and friends. Check out more about my tea course below…