There are numerous benefits to drinking Cherry tea. So Cherry tea benefits are what I'm focussing on in this article. It has beneficial compounds in the fruit, along with that refreshing fruity taste.
It's important to note that Cherry tea can actually come in two forms. Cherry tea made with a black tea base, or cherry tea as a completely herbal tea (tisane), just containing the fruits.
We'll discuss the benefits of both Cherry herbal tea and Cherry tea with a black tea blend here. But first, here's the quick rundown, then we'll get into more details…
The benefits of cherry tea are numerous. Aside from the pure tea health benefits when blended with black tea, the cherry element provides vitamin C, vitamin E, iron, fiber, calcium, and potassium. Cherry tea, or black cherry tea is also rich in the specific antioxidant anthocyanins and pectin.
The potential health benefits obtained from drinking Cherry tea are numerous and delivered by both its tea component (in tea blended varieties) and its cherry fruit elements.
Maybe cherry tea will kickstart your journey on how to become a tea drinker!
So now we have the quick snapshot answer, let's explore this further.
What is cherry tea
Cherry tea is usually black cherry tea. It generally consists of a black tea base of Ceylon or Assam. Flavored with cherry extracts or natural cherry juices from the cherry stone fruit. Usually incorporating dried cherry flakes, it can also be combined with other fruit and spices.
Alternatively, Cherry tea can be a completely herbal tea made with cherry fruit alone.
In either method, both are labeled as cherry tea, simply referring to the specific cherry benefits it provides. These are usually dried cherries.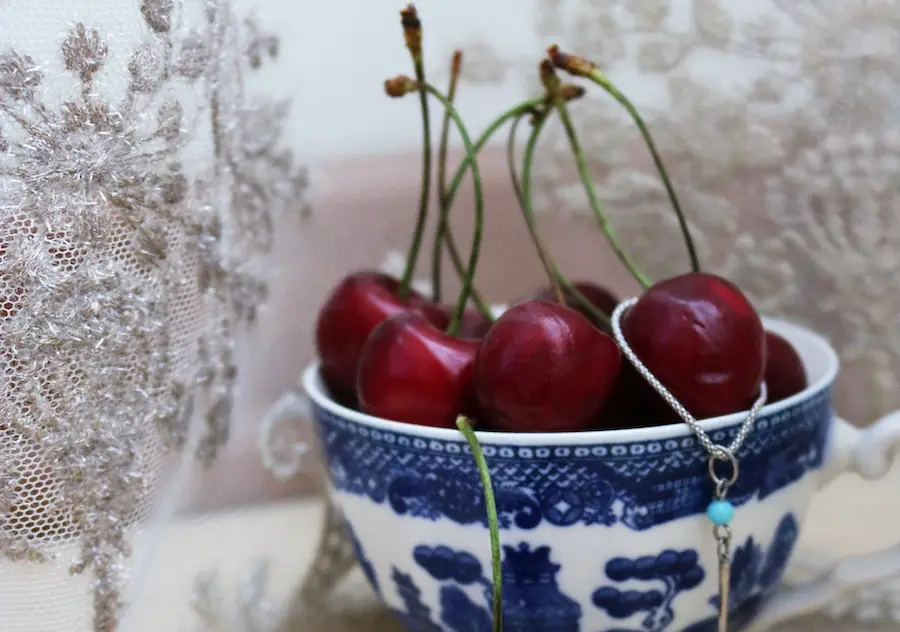 What type of cherries are in cherry tea
There are more than 100 varietals of cherries. But most fall into a few categories. 
Cherry tea can come in the form of loose leaf tea – especially when blended with black tea. Or herbal tea only.
When it comes to caffeine, like most herbal teas, herbal cherry tea is caffeine-free and is one of the most popular types of fruit herbal teas consumed around the world.
There is a range of cherries available to make cherry tea. They tend to range between sweet and very sour in flavor in their pure form. The sour flavors are usually further sweetened and used to make jams and syrups. Sweeter cherries are usually larger and are commonly used to make cherry tea.
For most cherry teas you will find the first option, the sweet cherry. But others are available.
Sweet black cherries
Sweet pink and yellow cherries
Sour red cherries
Processed cherries are not to be confused with wild cherries. Wild cherries still contain seeds but are smaller, and a lot more bitter and would not normally be used to make cherry tea. They are often used as a flavoring agent in tarts and other culinary areas.
Wild cherries can be eaten raw, and contain benefits such as colds, whooping cough, bronchitis, and other lung problems. As well as diarrhea, gout, digestive issues. They're often used in cough syrups and lozenges due to their expectorant, sedative, and cough drying, and suppressing effects.
Example cherry teas
Here are some common examples of cherry tea flavors and the fruit used to make them…
Black cherry
Cherry blossom
Coffee cherry tea
Cherry hibiscus
Best options for Cherry tea on Amazon
11 Cherry tea benefits
Here are some of the benefits you can gain from drinking cherry tea, either herbal or blended with black tea:-
Helps combat tumors and cancers
Studies show that cherries are rich in antioxidants, namely polyphenols and vitamin C. These provide anti-oxidant, helping to lower the risk of developing tumors and cancers. This benefit increases when blended with true type teas such as black tea.
Lowers blood pressure
Cherry tea has been tested and shown to help lower blood pressure in 5 out of 7 cases. And as a result, helps to lower the risk for heart attack, strokes, and other cardiovascular diseases.
Reduces cholesterol
Alongside a reduction in blood pressure, cherry tea has also been proven in clinical trials to reduce cholesterol buildup. Where cherry extracts and purified anthocyanins were seen to decrease liver triglycerides and cholesterol levels in rodent trials.
Anti-Inflammatory
Due to its anti-oxidant properties. Cherry tea can potentially help fight inflammation and muscle soreness as shown in 11 out of 16 cases that were tested. 
Improved muscle repair
Studies have shown that muscle damage derived from physical activities heals faster when combined with consuming cherries. 
Strengthens the immune system
It's no secret that the general properties found in fruits, including cherries, may help strengthen the immune system.
Improves mood and energy
There are several teas known to boost energy levels dramatically, here are 12 of them. Cherry tea is among the teas that can help enhance your overall mood and provide a higher level of energy.
Detox properties
Teas like lemon tea are well known for their detox properties. To an extent, cherry tea provides similar properties to help flush out unwanted toxins from the body.
Reduces acids
Cherries offer some compelling evidence that suggests they reduce uric acid in the body, helping combat the onset of gout and combine well with its anti-inflammatory effects.
General benefits from flavinoids
Flavonoids found in fruits, including cherries, provide a wealth of additional benefits.
Depending on the type of cherry, studies show that flavonoids have been found to be as high as 40% of the Flavin-3-ols present. As well as their anti-inflammatory and cardiovascular help, Flavonoids help guard against diabetes and cognitive diseases such as Alzheimer's and dementia
Other cherry tea benefits
There are a variety of other benefits that have been shown to be provided by cherries and cherry tea. These include a reduction in pain from arthritis, helping with gout, and easing headaches.
Cherry tea for weight loss?
If you're looking for cherry tea to help you with weight loss, then it's perhaps not the first choice I'd recommend. If it's weight loss you're looking for then you need some super weight loss teas! So it's worth checking out Blue tea, Senna tea, Catherine tea or Valerian tea for that!
What does cherry tea taste like
Cherry tea has a sweet aroma and mostly a sweet taste, but can bring slight sour tones and is likened to a fruity drink like a fruit punch. Black tea blends include the earthy tones of their black tea base. The taste profile can vary depending on what other fruits, herbs, and spices are added.
Cherry tea is most commonly a black cherry tea and can come as a purely herbal tea, or be incorporated into a black tea base that underpins the aroma and taste profile.
Home-made cherry tea can have a more organic and stronger natural taste to it – depending on how it's brewed. But store-bought cherry tea has added flavorings to help pack a more rounded taste and aroma.
So there is plenty of reasons to start drinking cherry tea for its health and wellbeing benefits.
Best options for Cherry tea on Amazon
You don't just have to have cherry tea alone, you can add a wealth of ingredients to cherry tea to further enhance it's taste and health benefits. So let's take a look at some of those next…
What you can add to cherry tea
It's worth checking your store cupboard for what you can add to your cherry tea while it's bubbling on the stove. Perhaps you can give it your own special "twist".
Here's just a small selection that should give you some ideas.
All types of other fruits
Any kind of mint
Mixed herbs
Ginger
Turmeric
Cinnamon
Vanilla
Chocolate
Other types of teas such as green tea or hibiscus
Other types of herbal teas such as lemon, peach, or jasmine
Sweeteners such as sugar or honey
The list is endless, you can even add tea leaves! and cherry tea provides a good tea base with which to experiment. If you're using it with green tea, try to follow the guidelines on when to drink green tea to get the most benefits.
You can buy cherry tea ready to use, and then you can also add some of the ingredients in yourself. But for tea drinkers those who like to experiment, it's pretty simple to make it yourself too.
Simple cherry tea recipe
Here is the most basic and simple recipe to make your own cherry tea and gain all the essential benefits outlined above…
Ingredients
2 x 1/2 quarts of water
1 lb fresh pitted black cherries (or remove the pits yourself).
1 x 1/4 cup of sugar
1x 1/4 cup fresh lemon juice
12 x Black or 16 x green tea bags
Method
Step 1
Bring the 2 1/2 quarts of water to a boil in a saucepan
Add your black cherries
Add the sugar and lemon juice
Simmer over low heat for 15 minutes. Use a wooden spoon to crush them against the side of the pan
Remove from the heat, cover,
Allow it to stand for 1 hour.
Step 2
Strain the cherry juice through a fine sieve into a clean saucepan
Press and discard the solids
Bring your now cherry juice to a boil over moderate heat.
Remove from the heat and add your teabags.
Allow it to steep for approximately 5 minutes, stirring occasionally
Discard the tea bags
Add other ingredients if desired
Allow the mix to cool to room temperature.
Decant your cherry tea to a large pitcher and refrigerate for up to 2 days.
Serving
Serve cherry tea straight, or over ice, optionally garnish with mint or a sprinkling of cinnamon.
Best options for Cherry tea on Amazon
To close
I really hope this has provided you with the complete guide to cherry tea benefits. And also the most simple way of making it yourself.
If you're a lover of tea, then you would love my Tea Sommelier Course. It's the fast track way of improving your tea skills … without taking lengthy exams. And enables you to become the go-to tea expert within your circle of family and friends. Here are the details…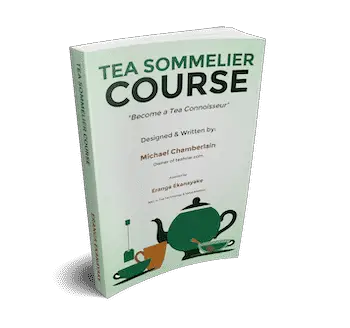 Take the fast track and become a tea connoisseur
Whether for enjoyment or considering a career as a tea sommelier. This course has everything you need to enhance your tea knowledge and tea-tasting skills.
This course keeps it simple with step-by-step tea tasting and easy reference guides
For pleasure, or as a precursor to a career in the tea industry. Find out what tea sommelier actually does, their career paths, and what they earn.

Find out more about the Teahow Tea Sommelier Course!
Find out more about the Teahow Tea Sommelier Course!