As a tea drinker, it's a good idea to know how teas of various kinds can affect or improve your body systems and well-being. One tea you might come across and want to understand more about is cinnamon and bay leaf tea's benefits.
The more teas you try out – not only will you better understand your own taste preferences, but you'll also come to understand what benefits you gain from each.
Here's a quick rundown on cinnamon and bay leaf tea benefits, then we'll go through the list in more detail…
Cinnamon and bay leaf tea benefits
Helps in weight loss
Promotes a healthy heart
Improves digestion
Controls blood sugar
Reduces inflammation
May help in cancer treatment
Lowers stress levels
Boosts the immune system
Treatment for migraines
Improves hair quality
May help reduce menstrual tension
Cinnamon and bay leaf tea have been used for a generation because of their favorable results – for many people. Bay leaves, along with cinnamon have been used in many homes as cooking spices.
It helps maintain body weight in that it neither removes too much weight too quickly nor won't increase it.
If you don't use bay leaves in your meals, then I'd recommend you add bay leaves and cinnamon tea to your diet and see its immediate effects.
Cinnamon and bay leaf tea are very easy to prepare. It has a sharp bitter-sweet taste and takes only 10 minutes to make.
You ideally need to steep one cinnamon stick, and five single Bay leaves added to around a cup of boiled water. To sweeten it, you can also add a teaspoon of honey for extra benefits. You can also use cinnamon powder (1 tablespoon per one cup boil water), stir it for a while, and strain before drinking.
You can drink cinnamon and bay leaf tea twice a day.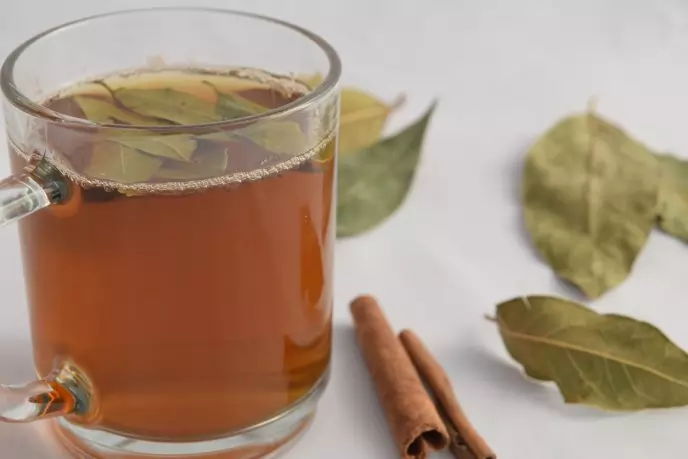 Cinnamon and bay leaf tea benefits – in detail
Cinnamon and bay leaves have numerous benefits in their own right.
The combination of these two ingredients is beneficial for people looking to be fitter and healthier in life. Historically its been used for anti-fungal antioxidant or healing properties.
These days people are spending more time doing jobs that involve less movement and more sitting. this can give rise to a number of difficulties such as indigestion, sleep challenges, or an increase in body weight.
Cinnamon and bay leaf tea can be a great solution to help reduce – and avoid a number of potential health issues.
Also, it's a healthy herbal tea, and therefore has properties that can improve functions of the body and can make an easy addition to your diet.
In fact, cinnamon and bay leaf tea is a drink you can drink daily to work towards better long-term results. The same can be done to gain the amazing benefits of cinnamon and ginger tea benefits.
Here's the list of benefits in more detail…
1. Helps with weight loss
Cinnamon and bay leaf tea can make an excellent contribution to a weight loss plan. It burns stubborn fat and increases metabolism, which helps to reduce weight. 
Drinking cinnamon and bay leaf tea can help to control blood sugar levels and improve insulin function – see below for help with diabetes prevention.
All these functions can assist in getting results in weight loss. It's particularly considered that drinking cinnamon and bay leaf tea at night is beneficial to promote weight loss.
2. Promotes a healthy heart
With a combination of potassium, antioxidants, and iron. Cinnamon and bay leaf tea are packed with nutrients that contribute to heart health.
Bay leaves offer a great combination of elements, including vitamin A, vitamin C, iron, potassium, calcium, and magnesium, promoting heart health.
3. Improves indigestion
The combination of bay leaves and cinnamon is great for your digestion.
Bay leaves contain enzymes that invigorate the digestive system. Also, it helps in the breakdown of proteins and digestive food faster. It also reduces uric acid by taking dirt out of the body. Thus, it results in calm indigestion in a significant way. It is effective in preventing or treating constipation.
4. Controls blood sugar
A study demonstrated that drinking cinnamon and bay leaf tea helps in controlling high blood sugar levels.
Bay leaves contain phytochemicals and essential oils that have hypoglycaemic effects on diabetes patients. This study stated that consuming 1-3gram bay leaves for 30 days decreases the risk for diabetes and is also beneficial for type 2 diabetes patients.
A second study found that:
"…consumption of bay leaves, 2 grams for 30 days, decreases risk factors for diabetes and cardiovascular diseases and suggests that bay leaves may be beneficial for people with type 2 diabetes"
5. Reduces inflammation 
Bay leaf has anti-inflammatory properties, which help protect and reduce inflammation in the body.
The long list of nutrients not only aids anti-inflammatory properties, but the above report suggests that cinnamon has antimicrobial, antibacterial, antitumor, cardiovascular, cholesterol-lowering, immunomodulatory, larvicidal, and antioxidant properties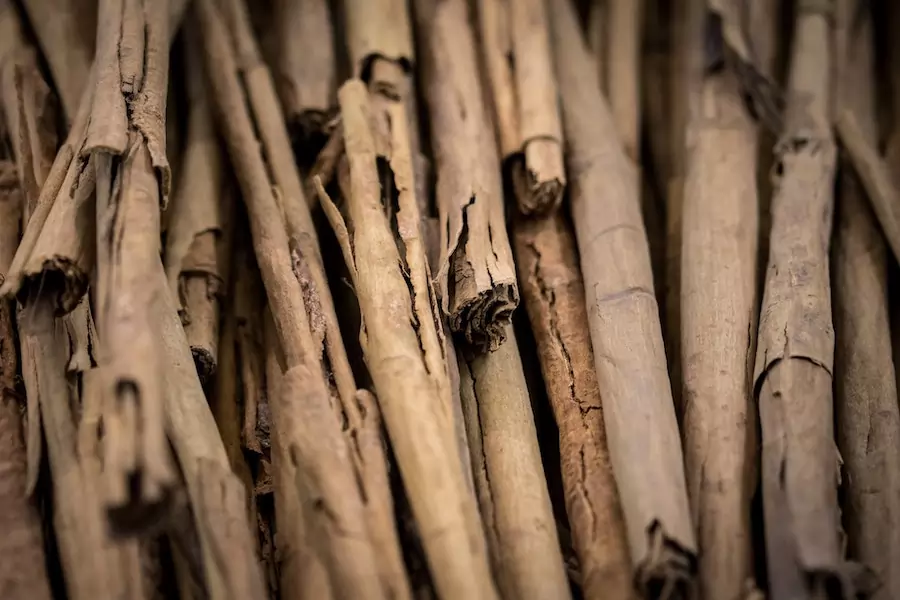 6. May help in cancer treatment 
Bay leaves are magical leaves. It has some medicinal properties which help in the treatment of cancer. One study stated that the extract of the bay leaf plant might help in cancer treatment.
7. Lowers the stress 
Cinnamon and bay leaf tea can help reduce stress.
A hot cup of cinnamon and bay leaf tea can be very comforting, and the aromatic fragrance of the bay leaves produces an immensely calming effect.
Some people burn bay leaves because their smoke contains Linalool which helps in treating anxiety.
The bay leaf element helps fight bacteria and fungi and promotes overall wellbeing.
8. Boosts the immune system
Tea generally provides properties that support the immune system anyway. But because bay leaf tea is a source of vitamin C, and has antibacterial properties, it can help in keeping infections at bay.
So regularly drinking cinnamon and bay leaf tea can help boost your immune system.
9. Treatment for migraines 
Studies have proven that bay leaf tea is helpful in the treatment of migraines. It has medicinal properties that are used in the treatment of migraines.
10. Improves hair quality
Cinnamon and bay leave the tea to have properties that help to prevent hair loss or promote hair growth. If you steep bay leaves in water and wash your scalp with the solution, then it can help to reduce dandruff.
11. May help reduce menstrual tension
Studies have demonstrated the benefits of cinnamon. Cinnamon may help to reduce menstrual cramps or allow you to bear the discomfort of menstrual syndromes like menstrual pain, nausea, and vomiting.
There is supportive evidence that women who take 3 grams of cinnamon for three days of their menstrual cycle experienced comparatively less pain.
Also, cinnamon tea is effective for the treatment of PCOS (Polycystic Ovary Syndrome).
PCOS is a condition for women which entails their hormones being out of balance and can cause unwanted weight gain.
Cinnamon enhances fertility in women …as it deals with urination issues and also helps in weight loss. Even drinking cinnamon tea in the morning on an empty stomach helps in regulating menstrual flow.
So you can include this benefit in your list when drinking cinnamon and bay leaf tea.
Can I drink bay leaf tea every day?
Ideally, you can drink bay leaf tea up to twice a day. Compare this to when you should drink other teas.
Cinnamon and bay leaf tea beings a variety of benefits – especially if you drink them regularly.
Bay leaf has a powerful combination of potassium, antioxidants, and iron; a combination that helps keep your heart healthy.
It's ideal for digestion and lowering stress. It's safe unless you digest the leaf by mouth. After all, it can become lodged in your throat or pierce the intestine's lining. 
However, the extract of bay leaves is good when applied to the skin.
Side effects of drinking bay leaf tea
Bay leaves are not dangerous or toxic to eat or drink. It's very safe and beneficial to cook with food or to add to tea.
There are two types of bay leaves; bay leaf or sweet bay leaf. The real one is also known as "bay laurel," which is safe. However, sweet bay leaves may cause excessive sleepiness and drowsiness.
If you take the sweet bay leaves tea along with sedatives then this may cause too much sleepiness. Sedatives are drugs used for calming the brain and inducing sleep. That's why it's not recommended to take both together.
Some people may have an allergy to either cinnamon or bay leaves. If that is the case, then they should avoid drinking this tea.
If you feel any symptoms in your body after drinking cinnamon and bay leaf tea, you must consult your doctor at once.
Pregnant women are advised to consult a doctor before drinking bay leaves tea, this includes cinnamon and bay leaf tea.
Does bay leaf tea help you sleep?
These magical leaves provide relaxation properties.
If you're facing difficulties sleeping then cinnamon and bay leaf tea can be an excellent solution.
If you drink cinnamon and bay leaf tea an hour before bedtime, you may experience a deeper and more restful sleep because the ingredients leave a mild soothing effect on the nervous system.
Therefore, it may help to reduce anxiety and keep you relaxed and calm …or may just help to make you feel sleepy. Here's more on the Benefits of Cinnamon Tea Before Bed, Weight Loss, and More
Is bay leaf tea good for high blood pressure?
Bay leaf is a traditional medicine for high BP. This is down to its rich composition.
The composition of a bay leaf includes vitamin A, vitamin C, iron, magnesium, and potassium, which positively affect your health.
Drinking bay leaf tea – or cinnamon and bay leaf tea is one of the best home remedies for assistance in controlling blood pressure.
Do bay leaves reduce cholesterol?
Bay leaves are commonly used in cooking as well as being used in manufacturing medicines.
Researches show that drinking bay leaf tea regularly may lightly increase good cholesterol levels …like high-density lipoprotein or HDL. 
It's not a quick fix, it takes time for this process to have any effect. You should look to drink it for ten days or more without interruption.
In short, bay leaves help reduce serum glucose, total cholesterol, LDL cholesterol, and triglyceride in the body – or increase good cholesterol simultaneously.
Tea which includes bay leaves is thought to increase HDL cholesterol levels in type 2 diabetes patients. However, further studies are needed to prove this theory. 
Is bay leaf good for your kidneys?
Studies suggest that bay leaves help in preventing kidney diseases and kidney stones.
Bay leaves have a positive effect on the gastrointestinal system by preventing gastric damage.
Also, the same study suggests that bay leaf can reduce the amount of urease in the body or helps in excreting the toxins, and promotes urination.
Is bay leaf good for the stomach?
Tea that includes bay leaf could be excellent for your stomach. It has organic compounds that help soothe an upset stomach.
Drinking tea with bay leaf as an ingredient helps relieve flatulence, intestinal gas and discomfort, and abdominal cramping.
More tea help…
I hope this has given you an insight into cinnamon and bay leaf tea. I can't say I come across many teas that do not provide some positive benefit. But to reiterate, I do not provide this as medical advice. You should seek the advice of a doctor if you wish to take any kind of tea that may affect aspects of your health.
If you like tea and want to obtain more of its benefits, then you'll love my tea sommelier course. It's the fast-track way to becoming the tea connoisseur in your circle of friends or family. Here's some further information.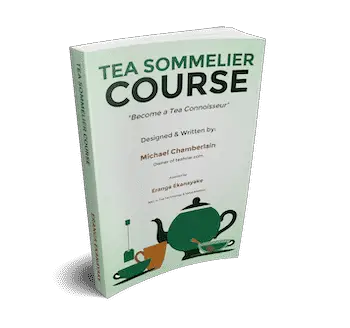 Take the fast track and become a tea connoisseur
Whether for enjoyment or considering a career as a tea sommelier. This course has everything you need to enhance your tea knowledge and tea-tasting skills.
This course keeps it simple with step-by-step tea tasting and easy reference guides
For pleasure, or as a precursor to a career in the tea industry. Find out what tea sommelier actually does, their career paths, and what they earn.

Find out more about the Teahow Tea Sommelier Course!