If you want to lose weight and keep fit at the same time, then green tea might be an excellent way for you to achieve this, as well as other benefits that green tea brings. But is it a good idea to drink green tea after a workout? And how does that affect weight loss?
In this article, I'm going through the benefits and the pros and cons of drinking green tea after a workout, answering all the major questions.
Here's the quick summary, then we'll get into more detail.
Green tea after a workout
Green tea is beneficial after a workout because it boosts your metabolism, burns calories, slows heart rate, rejuvenates muscles, eases muscular soreness, relaxes, and is also hydrating. Ensure you do not drink green tea on an empty stomach or too late into the evening following a workout.
Here are more details on the general benefits of green tea alongside the benefits of green tea after a workout. But also check out my article on green tea before a workout. Or milk tea before a workout.
Or you may want to read Tea Before a Workout: 6 Teas to Get the Best Results and Why
Benefits of green tea
Greeen tea can aid in a weight loss regime
Helps in reducing cholesterol levels
Promotes heart health
Cleans the digestive system
Boosts the immune system
Provides energy to the body
Protect against flu and coughs
May help in preventing certain cancers
Suitable for oral health
Strengthen the bones
Numerous teas offer various types of benefits, and green tea has an extensive list when compared to other teas.
Green tea is linked with a lot of health benefits. Specifically, it is seen as the most beneficial drink for weight loss and losing belly fat.
If green tea is mixed with other ingredients it can also add to the benefits. For example, check out my post on Jasmine green tea benefits. Also, check out my article on milk tea before a workout.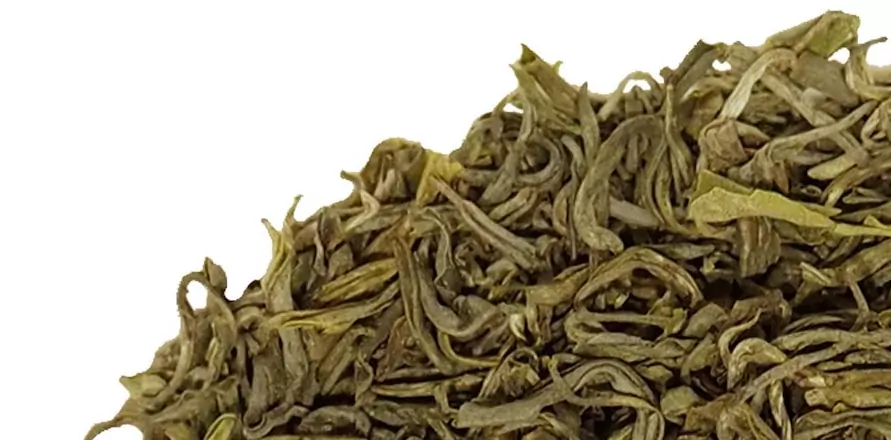 Is it better to drink green tea after a workout – or before?
Drinking green tea boosts metabolism and burns more calories after a workout. Also, green tea relaxes your body after a rigorous training session.
There are a few optimum times to drink green tea during the day depending on your activities for that day.
Unless drank on an empty stomach, green tea generally doesn't have significant side effects either.
Even though tea provides optimum benefits after a workout, including hydration. You can drink green tea before a workout too, and it should still serve to enhance your workout regime.
Drinking green tea first thing in the morning can be a better way to kick start your day. Green tea has some caffeine content, In fact, all true type teas contain caffeine.
But instead of taking high levels of caffeine through coffee, or sugar-rich drinks, green tea provides a better and healthier alternative.
Green tea caffeine content is in a lower amount compared to coffee. It has less than three times the amount of caffeine that coffee contains.
There are only a few types of tea that contain the highest amount of caffeine, like black tea or Pu-erh tea.
Is it okay to drink tea after a workout?
It is refreshing to drink tea after work out. Tea can help to refuel the muscles, rehydrate the body, and recover from vigorous exercises quickly. It reduces tiredness, muscle soreness and gives you a fresh and relaxed feel.
It helps to get better results and enhance your capacity to work out.
Green tea has benefits both before and after a workout. Also, it has additional benefits that go way beyond your gym routines. It's more than just a fat-burner that helps in weight loss.
Powerful antioxidants (catechin called EGCg) help metabolizing fat as well as treat many chronic inflammatory conditions. Also, prevent some severe diseases like Alzheimer's, heart disease, or cancer.
When you should take green tea after a workout
If you're a tea lover or want to become a tea drinker, you can really look to drink tea almost any time of day.
But, drinking green tea after a workout has a relaxing effect on your body. It balances the heart rate, reduces muscles soreness or inflammation. It's low in calories, and also offers a guilt-free effect.
If you're looking to enhance the benefits of green tea, you can follow the points below:
Drinking green tea after breakfast can kick start your day; it ends sleepiness and boosts energy.
If your aim is for weight loss, drink green tea 60-90 minutes before a workout to boost your exercise regime. Drink green tea after your exercise program, provided it isn't too late into the evening.
To avoid symptoms such as nausea, drink green tea after a meal.
For glowing skin, add green tea to your daily routine.
Here's a useful extract from my article on when to drink green tea that might help.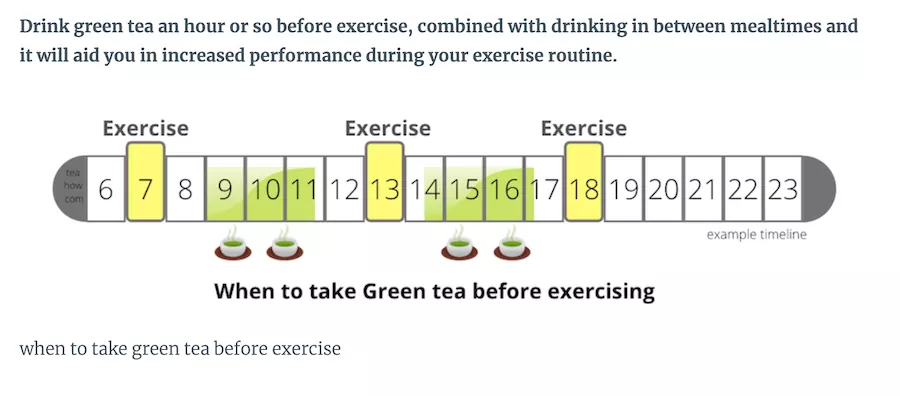 What happens if I drink green tea every day?
Green tea is considered a healthy drink, but too much of a good thing can make you sick.
In fact, green tea is on my list of teas to reduce bloating, and another of my articles deals specifically with green tea to reduce bloating.
Too much green tea may cause stomach problems, diarrhea, nausea, or vomiting, long term might include iron deficiency. If you drink green tea too soon before going to sleep it can delay your sleep pattern, so you may experience mild insomnia.
Here's more on my article regarding drinking tea at night.
Although green tea is one of the safest drinks, there is a case for all things in moderation.
If you experience any problems, you should stop drinking it or consult a doctor. If you're suffering from daily headaches or have caffeine sensitivity, you should avoid green tea.
Which green tea is best for a flat tummy?
Green tea contains high antioxidants called catechins which are linked to weight loss. Therefore, green tea is a good choice for reducing fat, especially unwanted tummy fat.
Matcha is a highly concentrated and potent green tea form that has the same benefits (if not more) as green tea.
Both are from the same plant, but their preparation method varies. Matcha tea has potentially more benefits than regular green tea because you are effectively ingesting the green tea leaves.
Green teas are a good choice for losing weight. Studies have shown the positive effects of green tea. In 2008, 60 participants, classed as obese drank green tea for 12 weeks. This resulted in an average of 7.3 pounds (3.3 kg) weight loss across the participants.
For those of you who are looking more for weight-loss teas, then I'd recommend exploring my other articles on teas that are considered better for weight loss regimes. Here's some help…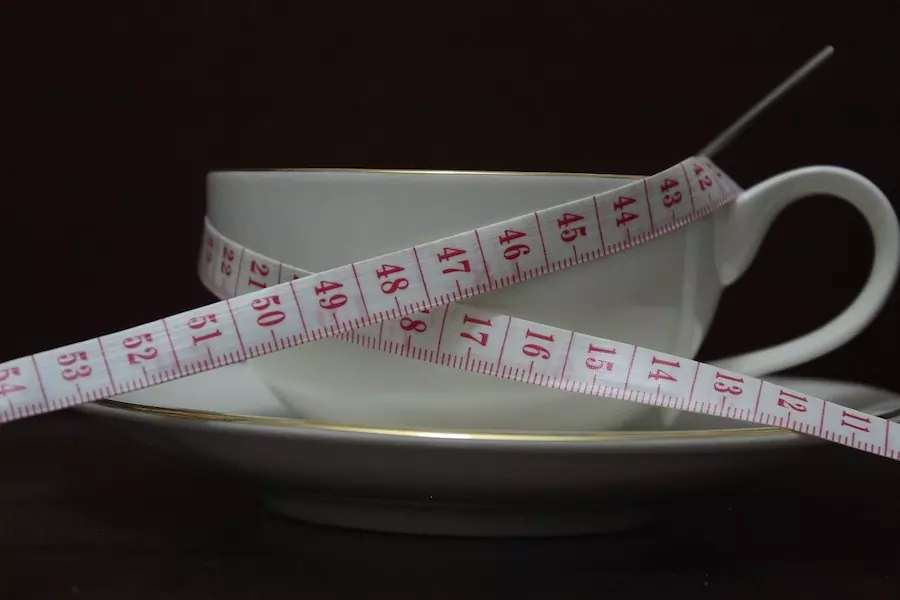 How many cups of green tea to lose weight?
Drinking green tea for weight loss depends on when you take it, and how much you take it. According to the majority of experts, drinking 2-3 cups of green tea per day is sufficient for weight loss.
However, it depends upon each individual person. Factors such as how much caffeine they can tolerate, and their natural metabolism levels for example.
Experts suggest drinking it in the morning or in the late afternoon. Again consult my other article on when to drink green tea.
When to drink green tea for a flat stomach
Drinking green tea in the morning, after meals, or in between meals are effective times to aid weight loss. Here's my list of best teas to drink in the morning.
Green tea is rich in antioxidants, polyphenols, and flavonoids and is also considered partly as a detox drink – but I would recommend something more like lemon tea for this purpose.
If you want to take it as a supplement for a flat stomach or for weight loss, you should look to consume gree tea daily, and at regular times.
Drinking green tea on an empty stomach for weight loss
If you drink green tea on an empty stomach, you may feel nausea and stomach upset. Due to the presence of catechin or polyphenols, it may cause burning sensations or even constipation.
If you have a sensitive stomach, you should avoid drinking any green tea on an empty stomach. Green tea is alkaline in nature and can cause the over-secretion of gastric juices.
More tea help
I hope this has given you a guide on drinking green tea after a workout. Be sure to check out my other articles on green tea.
If you're looking to take your tea skills to the next level, then you'll love my tea course. Here's some further information…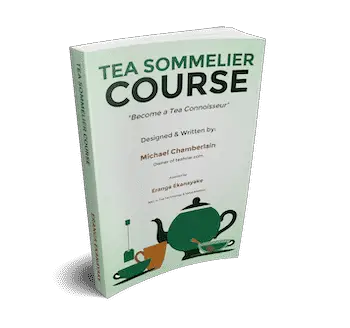 Take the fast track and become a tea connoisseur
Whether for enjoyment or considering a career as a tea sommelier. This course has everything you need to enhance your tea knowledge and tea-tasting skills.
This course keeps it simple with step-by-step tea tasting and easy reference guides
For pleasure, or as a precursor to a career in the tea industry. Find out what tea sommelier actually does, their career paths, and what they earn.

Find out more about the Teahow Tea Sommelier Course!